How Do you Celebrate Christmas?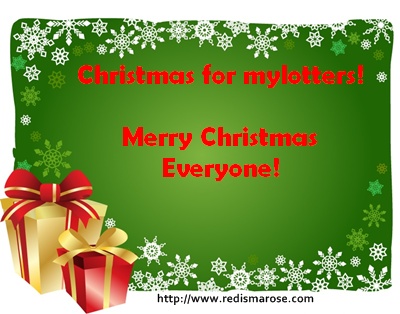 Philippines
November 30, 2011 4:52am CST
It's the last day of November today and tomorrow would be December. Which means Christmas is fast approaching. The other day, I and my husband were planning on what to do on Christmas and what would be our food that day. We agreed that our Noche Buena would be simpler since on Christmas day itself we would go to his parent's place and we would spend the whole day there so if we prepare lots of food, nobody would eat them. We also go to my son's Godfather and Godmother so he can get his gifts from them. We would also give gifts to our family and godchildren. How do you celebrate your Christmas in your place/country?
4 responses

• Philippines
3 Dec 11
Hi red! My Christmas celebration is boring. I just stay at home and wait for my godchildren to come so that I can give my gifts to them. But it's okay too because I get to talk with their parents who are my friends that I don't see often. When I was a kid, Christmas was nicer because I go to different houses to get
pamasko
.

Noche buena
is also boring. We stay at home and eat and sometimes, my relatives would come. I'm not very sociable and I don't like a lot of my relatives so I don't enjoy their visits. I would have preferred to eat with my friends and have a drink but since Christmas is supposed to be a family day, I can't go to my friends' house to celebrate the day.



• Philippines
2 Dec 11
we usually have our noche buena together with the family. on the 25th we would invite our aunts and cousins to eat at our house. sometimes we do the visiting. it's a merry season. i love it when it's Christmas since it could be the time that our family could bond..


• Bulgaria
30 Nov 11
Christmas our family will be home to have the family home. We also know what will be our food and everything is decided. deified Christmas I always have such holidays. Yet these are all the holidays because it's a family holiday. nice day!