My hairdryer stopped working today..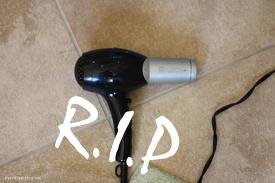 Greece
November 30, 2011 7:41pm CST
I was drying my hair this afternoon because I wanted to meet my friends for coffee and I was nearly finished when the hairdryer stopped working. I had bought it 2 years ago but I took good care of it, I don't know why this happened. It was plugged and I was blowing my hair dry, with the highest heating scale and suddenly it stopped. It started again for a few seconds and then stopped for ever! It also smelled like burning so I unplugged it and I tried to another plug but nothing. Do you have any idea why this happened and what could be the problem? I don't know if I should bother repairing it or just buy a new one. I am sad because I really loved this hair dryer because it was very powerful and I could do my hair very quickly.
1 response

• Australia
1 Dec 11
Maybe you have hair or dust around the motor, I have been through a few hair dryers, sometimes the corg breaks away a bit as well, I have had a few things breaking down lately, never happen with just one thing with me.