Obama's got his own line of sneaks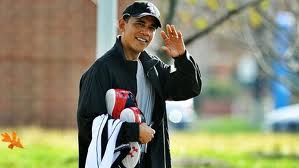 United States
December 1, 2011 4:27pm CST

Well, looky here.....Obama's got his own basketball shoes with the presidential seal! What's next? Presidential golf clubs? Seems to be there's more important things he could be doing. I thought there was a law against this? In my opinion, they look like clown shoes, lol!!
3 responses

• United States
13 Dec 11
I didn't hear of this.. but I did hear of government paying $16 for a muffin.. and lots of much more expensive things like lunches, trips and rooms, at very high prices.. but for the government money grows on trees..

• Australia
1 Dec 11
I think there is a lot of waste within the Governments all over the world, it makes me so angry to see them sitting down to huge big dinners at our expence mind you, when everyone is doing it so hard, why do they have to go flying all over the world staying in the most expensive places with all the technology these days that should all be cut back to the bare minimum, they sure do look after themselves very well while the people they are working or are struggling.

• United States
1 Dec 11
Why are you surprised by this? You think he is the only President to spend money foolishly? I seriously doubt that. I can only imagine what type of things Bill Clinton spent money on while he was in office. A Politician is a Politician. Enough said.