Fart App for my BlackBerry! :-)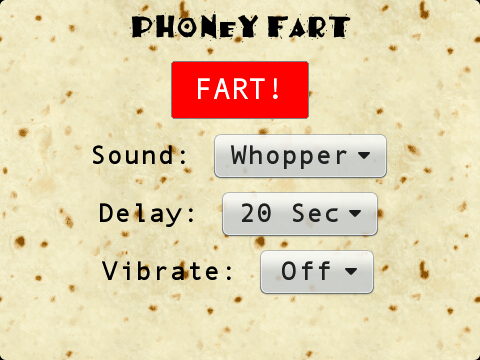 Canada
December 15, 2011 5:07pm CST
Well, it's true, a lot of people think farting is gross, and mind you I won't make a fart sound in church

but it's definitely a something funny to activate when in a stressful situation. Kinda like a non-sequitor........ I purchased PhoneyFart from the BlackBerry AppWorld, and I'm loving it. I can activate it up to 5 minutes delay or right away. Great for pulling pranks. Any one of you guys brave enough to pull a similar prank?

6 responses

• Australia
25 Dec 11
I used to have a whooppee cushion when i was younger till it broke...I love those pranks!!



• Canada
25 Dec 11
Whoopie cushions are fun, but sometimes they didn't work, the fart app is more fun to work with LOL

• Australia
31 Dec 11
Update...I found my whoopie cushion & it's not broken but my dog hates it so I have to keep it away otherwise he will try to "eat" it if we play with it


• Carlisle, England
16 Dec 11
A whoopee cushion would be cheaper..I think!


• Carlisle, England
16 Dec 11
Did it? Well, that sounds very reasonable my friend so I reckon you've a good deal there. Have fun with it!


• Canada
31 Dec 11
I also have a similar app in my blackberry. It's called FartBoard. I know it wasn't appropriate, but the kids seem to think it was funny when I downloaded it. I haven't played it in a while, but it surely sends a smile to my kids when they stumble upon it when they play with my phone.
It even has different kinds of sounds for different kinds of situations.


• Canada
10 Jan 12
Wow, I didn't realise they had the fartboard for blackberry, and I searched through the apps on the appworld. But ya, I am having lots of fun with it, and my 2 kids love playing with it as well. Maybe I should try out the fartboard as well, are the sounds realistic?

• Spain
8 Jan 12
Sounds great fun. I don't need that, because I'm one of those rare and talented people who can fart to order. Perhaps I should start farting classes - I could clean up - especially if some of the students overstretch themselves.

What would be really hilarious is a farting ringtone. After all, some of them can be quite musical.


• Canada
10 Jan 12
You can probably make your own ringtones, just record whatever sound you want into voice notes and then somehow import it into the ringtones, or when you set your ringtone, you can select from your voice notes. You are indeed lucky to have that talent, but I find it funny to hide the phone near someone, set it on a timer, then let the phone let'er rip. Priceless!

• United States
24 Dec 11
My hubby has a similar App on his Android phone and he uses it regularly at his work of course he works with all men so you know they find that type of humor hilarious, so they love it, he even encouraged his boss to down load it and use it at his house. It is kind of fun especially when you are in a crowded place full of strangers and you use that App, we actually used it this weekend when we were in Universal Studios in a line, the people next to us, started looking around to see who had launched that fart, the look on their face was priceless LOL!!!


• Canada
25 Dec 11
LOL I might try that sometime, I mainly just make the app go around people we know :-p

• Gold Coast, Australia
17 Dec 11
My ten year old son has one of those apps on his iPod and he loves going around the house letting them rip! It was funny at first but it does get a bit old hearing it all the time. So enjoy your app, but try to use it sparingly!


• Canada
25 Dec 11
LOL my son and husband now like to play with it, hehehehe!