Last week before Christmas

Italy
December 18, 2011 1:05pm CST
Dear friends, next Sunday, finally is Christmas. The city is already decorated Christmas trees, wreaths, colored lights, etc.. The shops and megastores are already ready for the great mass of people will go in the race for the last gift. It seems almost impossible to be already arrived at Christmas, it seems only yesterday that I was at sea on the beach ... Certainly today, this Holy feast does not live by more than certain as I was a child, even if the charm of Christmas remains unchanged. One time I was very anxious that I would find presents under the tree, but today, well my gifts if I can do them to myself Of course talk about gifts at this time of crisis for some people it may seem a paradox. But as you might give up this tradition, in the heart brings joy to young and old?
5 responses

• Philippines
19 Dec 11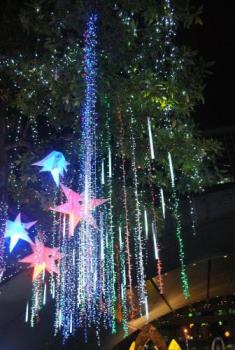 gift giving adds cheers to the season. I for one do shop a lot during Christmas season because I wanna express my love to all my loved ones and friends. Nevertheless, even without the traditional gift-giving for as long as the real reason for the season remains in my heart, Christmas celebration will always be full of joy. It is just sad because most people think Christmas just all about material things. No, Christmas is first and foremost about one spiritual thing and this is the birth of Jesus, the Savior who gives love peace, joy and hope to all mankind. So to me, with or without money to spend for lavish celebration I'd enjoy the season just the same.


• Italy
19 Dec 11
My congratulations for this comment! Even you have enriched, complete with photograph. Excellent expression. You practically explained it perfectly what symbolizes, first of all, Christmas. Even from me to you my best wishes!


• Italy
19 Dec 11
Merry Christmas to you, too and also happy new year !!




• Italy
18 Dec 11
Well, if you really want to know how even all of my truth, I tell you that I do not have much to be happy. However at least one day, and I do mean on Christmas Day, I would like for a moment forget the problems of everyday life, and live happily and in peace.


• China
19 Dec 11
Christmas is drawing near and in the western countries there is romantic and festive atmosphere everywhere.Although some people may have a crisis on his living,he also deserves to enjoy himself in such a beautiful holiday.Christmas,in my eyes,is more of a comfort for the mind rather than a time to spend much money.Merry Christmas to you!And I hope I can spend the Christmas in Europe someday in the future.I've anticipated this for a long time!