seriously capthcha!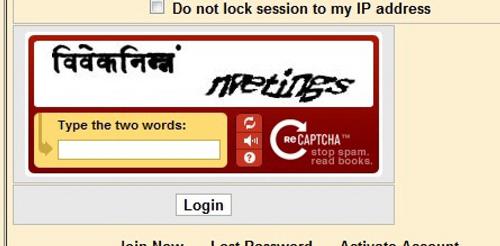 Calgary, Alberta
December 30, 2011 11:56pm CST
I was about to sign in to a website where I am a member when I encountered the worst capthcha in the history, seriously, they expect me to retype that.I tried refreshing for like 10 times and I get the similar unrecognizable words and they expect me to spell that. Just check the picture below,click it and and enlarge it to know what I am whining about. I want to punch that person who assigned that awful captcha, captchas are annoying already and he makes it more annoying beyond repair. It took me 10 refreshes before I get a captcha that is possible to retype.
5 responses

• Australia
31 Dec 11

I think it was trying to make you go mad and blind! I hate having to type in those capthchas every time I sign up for something or want to log into something, it's a waste of time trying to decipher those tiny jumbled words. I wouldn't even call them words, they're just muddled up gibberish! I actually did this capthcha typing thing to earn a bit of cash. For every capthcha you spell correctly with a fast speed, you'll earn points and redeem for cash. I got really excited and thought I was earning a lot at the rate that I was going. I then checked out the cash out area and I needed to solve like 1500 capthchas to even get one dollar. So I ran away from that site, I couldn't take it anymore from the ugly letters and the low measly payment. But yes it is very annoying. It's like you're trying to make an account and there's this annoying capthcha that doesn't make any sense. I find myself refreshing the page like 10 times and then retyping all my account details all over again. Why couldn't they make it numbers and with clear image too?




• Philippines
31 Dec 11
It's funny. Capthcha from hell. It's really unrecognizable. That Capthcha is really testing your ability to recognize the unrecognizable. I''ve also encountered things like that from signing in some websites. I even ask my sister if she could understand it but she doesn't. She'll just say "what the heck is that". So all i do is just get rid with the site or try to refresh if the next capthcha is more recognizable.

• Philippines
31 Dec 11
Yes, sometimes, it does. I really hate also sometimes when that thing appears. It took a lot of time. It is delaying my time sometimes. But, I guess I just have to accept it that capthcha also is for our own sake. It does surely adds security.


• Garden Grove, California
1 Jan 12
hi CaptAlbertWhisker wow you had to retype that, finally figured out one word is arabic but how did you finally get it typed? must have took some doing or digging somewhere for information.. I cou

ld almost do the one word but the other the Arabic one really got me.