Crazy Little Thing Called Love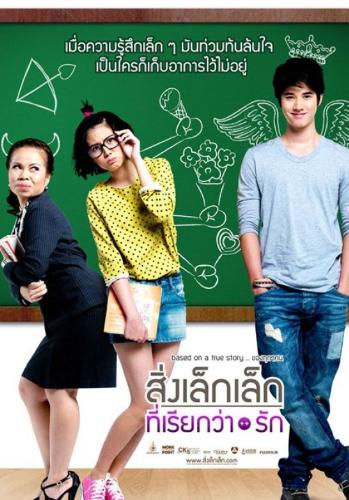 Indonesia
February 14, 2012 5:30am CST
A film from Thailand is a romantic comedy genre. This movie tells the story of first love of a 14-year-old girl who likes to seniors. In aid of three friends and a book of love, the girl went from an ugly duckling into a beautiful swan. Of course with the season comedy that tickles. This movie will remind us of times we know love in school. Have you heard or watch this movie?
5 responses


• Philippines
14 Feb 12
My younger sister came home one day and was forcing me to watch this Thai movie crazy little thing called love. I told had I didn't have time for it but she asked if she could watch the movie in my room so I allowed her. I wasn't doing anything then so I became a reluctant viewer but I got so much engrossed in watching the movie. It is a very nice love story that can most girls out there can relate with...you know at first you are the ugly duckling and then you strive hard to look your best to have your crush notice you. I love the story of the movie because it's something that is close to reality. Plus MARIO MAURER is really handsome!

• Indonesia
14 Feb 12
Yes, the story is very impressive in the heart, describes the lives of young people in schools, and reminds me of the days at school and my first love...!!

•
14 Feb 12
I always wonder why the "ugly duckling" is inevitably smart, brunette, wears glasses and has a ponytail. Those are all things I absolutely love - the ugly ones to me are the blonde-haired, blue-eyed, icky, popular Barbie girls. Ah, well.

• Indonesia
14 Feb 12
everyone has their own judgment, and you have a different assessment to others, I appreciate it because it's your choice, but honestly for me there are no ugly women all the women were beautiful.! ^,^

• China
16 Feb 12

Yeah,i have seen this movie and it's such a touching story.Which also tell us to be a smart girl and also love is nowaiting for anyone. So just say it out loud when you really love someone and do not lose it.But i still feel shy when i met the boy that i loved.lol


• Philippines
14 Feb 12
Watched it already and would you believe I downloaded some of the songs on that movie too =)) =)) I can feel my heart pound whenever Nam the girl in the story would see her crush hahahaa I remember my high school days on that movie and it is really nice to have puppy love and secret crushes just like the old times in highschool :)