Are you agree with me? if two women meet and keep quite means a big joke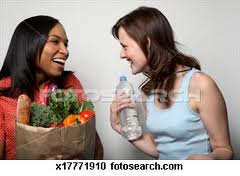 India
February 27, 2012 11:27am CST
This is funny discussion dont take serious my friends but this is fact most of the women are talkative and whenever meet two women they start talking. In my family my husband's brother just announced this joke two women cant keep quite. Women never keep quite and more talking than man. What you think this is true or some exceptional also. I am sharing this discussion in funny way not criticize. My most of the friends even me also talkative. If anyone hurt from my discussion then I apologize.
9 responses

• United States
27 Feb 12
Hi there Fantabulus, Ok..I am a woman and I also do not mean to offend. I was diagnosed as selective mute as a child and called the "girl that didn't talk" all through school and then some. I have a daughter that was diagnosed the same so we don't even fit into your image of women. I've pretty much overcome that and I'm very articulate now or so I'm told. I work in a convenience store that has tables for people to sit and eat and drink their coffee and socialize. I will tell you this. In all my years working here, it is very very rare for me to see a woman sitting at those tables gossiping. It is the MEN. OMG...they watch the customers come and go and their little heads join together as they whisper about this person or that. Most of the juciest gossip in town...I've heard from a man. They are, in my opinion by far the worst of all gossipers and talkers in general. I can't even tell you how many times a man comes into the store for a quick purchase and then gets caught up talking to the guys. By and by, his wife who has been sitting in the car waiting for him, pops her head in to see what the hold up is. You guys have no idea how you appear to us women.


• India
28 Feb 12
Its really a great discussion i am agree with you in this matter.

• India
1 Mar 12
hm...i am a women and i prefer to keep quite on such topics which are not fair , not true and created only and only for fun purpose....and surprisingly luk who's talking...few husbands....:)


• India
28 Feb 12
Again while generalisation cannot be made--- women talk more given an opportunity-- mostly on the right side. Only problem --is jealousy over others--this is there among men also probably on a lesser level comparatively.


• India
28 Feb 12
Hunibani you are exceptional women hahah.. just kidding. Mostly women are more talkative but some women like less talking.

• India
28 Feb 12
fantabulus -- yes. normally women talk more. yesterday I met my brother and four cou

women may talk with more eagerness and interest. men talk probably a little less. You are an excellent woman. How is your friend Surekha? not be seen nowadays. probably she is busy with her family/institute work.



• India
28 Feb 12
fantabulus -- thanks for information about your friend. She was very psotive and active whenever she logs in mylot.


• India
28 Feb 12
Hello friend! I gradly agree with you friend. Its very rediculas if two women meet and keep silent. So its like a joak. And its may be they both are deaf and dumb.

• India
28 Feb 12
OHOHO -- you think that if two women do not talk -- they are deaf and dumb. there can be other reasons also: 1) X thinks she is superior to Y. 2) Y believes that she knows more than X. 3) X assumes Y is totally happy and has no problems. ...like that...like that


• India
28 Feb 12
Ohh sourbh you are agree with fanta great this is face women cant keep quite. Sir your response is funny Fanta is laughing hahahh... nice Khandala man you are saying true women(me also) remain indoor in house full day so we complete our quota haha..funny response.

• Indonesia
27 Feb 12
Well, my friend, that's not a joke. It's a fact! :D I'm also saying this in a funny way, but the fact thing is not a joke. Lol. Even the most silent people will start talking with no ending when they meet people of their kind. I mean, the same quiet people. And when they share the same interests, believe me, no one can be called "quiet". :) This is a fact. Although I can't prove you with psychological evidence, but I have seen my friends and students who are considered "quiet". I have tried to talk to them using the subjects that interest them, and believe me, I can always make them "talk". Muahahahahaha!!!

• India
28 Feb 12
Some people are start talking and they not stop till not tired. Ohhh means you are also accept this women are more talkative woooo. No silent person cant talk with unknown person. But talkative women can talk with anyone.

• India
1 Mar 12
I dont think i would agree, right from my schooling i was a very reserved person, i would just keep to myself apart from two or three close friends...now, i am 32 and still not become a talkative, even when i am left alone with a female companion, even if she goes on talking to me, i dont go deep in talk

• India
1 Mar 12
Hahahha...what a funny discussion dear funny fanta. I never keep quiet even if I am single women

. I talk everytime with everyone in every place. You are right women never keep quite whenever meet two women like me start the chatting no special topic is required start talking on any topic. Like now everywhere the topic is home servant every women talking about home servant because home servant is very less in our town.

• Delhi, India
1 Mar 12
Hi fanta! I have also heard this joke long ago.

. I find it true many times that if two women are sitting together they will not keep quite. They will try to interact with each other to the extend possible. You have not shared your opinion and experiences in this regard?