A glitch from last night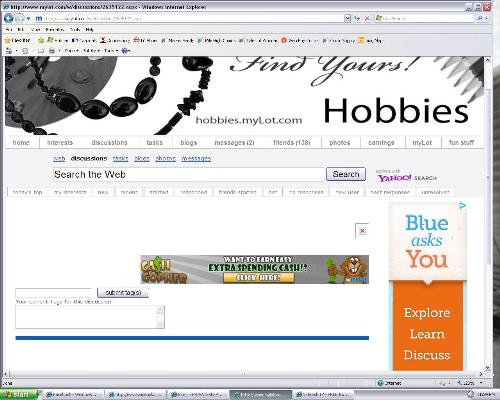 United States
February 29, 2012 8:35am CST
Last night I was trying to respond to a discussion and had several glitches. One I will post as an image below, the second I didn't capture nor the third. The second, however, was that to the right there was the standard green avatar, no username but a (0) for the posts, then to the middle there was a standard "reply" field. The third was when I was trying to create a discussion about it. First it wouldn't go to the mylot category, and then the second time it didn't post the discussion at all. So here's the discussion today, and a picture of one of the glitches. Seems like mylot was glitch central last night, and to think it was about two hours till only one day left to post before the next month.
4 responses

• Boise, Idaho
29 Feb 12
I have been having afew glitches now and then too. Not as many as before. This morning it is working great and I might even get some work done.

• United States
29 Feb 12
I was wondering if that was mylot's way to stop us from posting!

I got a little frustrated as I wanted to work hard last night but will have to to do that today. I only have three dollars left to get, and I need the money so... Hopefully we both can find something worthwhile.

• Boise, Idaho
29 Feb 12
I have wondered that myself sometimes. I need the money too and only have about 41.50 to go. Hope I can make it but I doubt it.

• United States
29 Feb 12
I noticed that there were a few glitches last night, but I had thought it was my computer. I wonder if there was a lot of traffic on here because people are trying to make payout. I am sorry that you had a glitch and are now back online. I hope that all is going well for you.

• United States
29 Feb 12
I had the same glitch I described happen to me last night happen to me today and I said forget it, I may still forget it and just try to relax. I'd love to make payout as you know it'd come in handy. I have to use IE so no it never goes "Well" lol.

• United States
1 Mar 12
Yes, unfortunately I remember the Glitches from then too. It does seem that from time to time this site is still quite Slow in loading, and not wanting to always post back everything I try to respond back too. It can make it quite frustrating especially when time is limited to when you can post in here.

• United States
1 Mar 12
Wow, that does seem like a lot of glitches for Mylot that you do not usually see. Maybe they are just going through a few things right now that is making the site run at less than perfect. I guess it was a good thing I did not do to much on here last night, otherwise I would have had to deal with it. Maybe everything will be back to normal and stay that way very soon. Happy Mylotting!