I went to the weirdest bar over the weekend..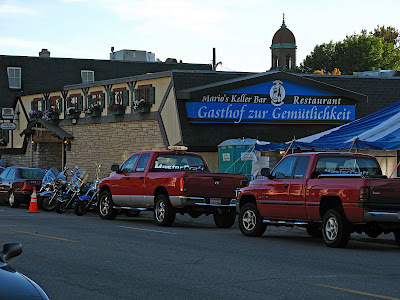 United States
March 6, 2012 4:40pm CST
Okay, I haven't been super active the past few days but a lot has been happening! On Friday night, for example, I was forced on a bar crawl with my sis and a few of her friends, her man's friends, etc. I had an OK time until we got to this really, really weird bar in our neighborhood. It has a lot of hype but I had never been there, so I figured, OK, new experience time.... It turned out to be a German bar. Not that that has anything to do with anything, but it was basically like a huge BASEMENT type room, with a few benches, but mainly just TONS AND TONS of young "Up and coming" (Yuppy) people standing around. There was polka music, a few brave dancers, and ONE itty bitty bar for all of the hundreds of people in the 'basement' like bar. All they had for beer was dark German beer or cider. I had a cider for $7. They also had a mandatory coat check at the door. I thought it was weird that it was MANDATORY. This was not my scene whatsoever. I am way too laid back for this kind of a place. And I generally like sitting at the bar, catching up with friends, definitely not polka dancing or standing all night. If I'm going to pay $7 for a beer, I want to be able to SIT and RELAX and enjoy it darnit!. Have you ever been to a bar like this? Or a very, weird bar? I found it totally crazy and weird and not something I will probably do again. Are these kinds of bars YOUR thing?
1 response

• Philippines
6 Mar 12
I would love to visit such kind of bar, but I guess I will not spend much time standing there all night. I will just a bottle or two, and after consuming them, I will move on to the next bar.