Pizza night with my mom

United States
March 8, 2012 4:43am CST
Last night I visit my mom, and she was about to make something for me for dinner. I just don't want her work extra since she already clean up the house. I was plan to take her out for dinner, but the restaurant she likes kind of far away, and I just want to be home and enjoy the Television. Then my final resort is calling for a pizza delivery. I called Papa John's pizza, a large crust with lots of meat; and an order of honey flavor chicken wings of 10 pieces. The pizza was great, both of us couldn't finish it, and we have a great night sharing the pizza and watching the television.
9 responses

• Philippines
1 Oct 12
hi, do always visit your mom?or if you only have time?because me if i am busy especially on weekdays because of my job i didn't always visit my mom but i will if my rest day,i usually bring her favorite cake because he really loved sweet cakes now a days.

• United Arab Emirates
26 Mar 12
Me God keep your mom. I really happy when I know that someone took his parents to a restaurant to picnik. They really deserve the nice moments. Have a nice yumme Pizza.

• United States
12 Mar 12
That is great. You should sign up for their online accounts. If you order online you get points for ordering and after you build up 25 points you get a free large one topping pizza. You can actually use this to get your free pizza delivered you just have to pay the delivery fee (which here is $2). Every order adds up online and it does not matter what you order. You can order the same specials that you would normally order over the phone. I am glad you spared your Mom from cooking. Sounds like a great way to spend the evening.

• Philippines
9 Mar 12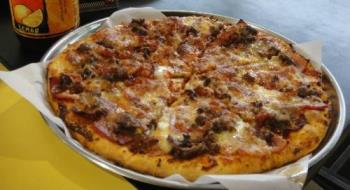 That's very considerate of you! I'm sure your Mom took notice of that. I love to hear children who gives consideration to their parents. Not all children nowadays give that regard to their parents. Most of them are self-centered and would like to be just served and pampered. They don't know how to look on the things and needs of their parents anymore. But you seem to be different.

You know when to give your Mom some break. Giving pizza and chicken treat to your Mom is such a sweet gesture. I admire you for that. Keep up! I myself do love pizza and I wish my Mom is still alive so I could give her pizza treat as well.


• Canada
8 Mar 12
I like to order pizza on a lazy night too whenn I don't feel like cooking and don't want to go out to eat also. We usually order vegetarian or cheese pizza with fries and drink. We all love pizza at our house...

• Philippines
8 Mar 12
It seems you have a very nice relationship with your mom. I miss my family so much that I miss having a sumptuous shared dinner with them. Usually, when I'm get home during the weekends, it's always a sure thing that my mom would cook some really good meal especially those that I miss eating in huge amount. Then at night, when my brother and I start to watch some of our favorite shows and movies on TV, we munch some food, well mostly junkfood and still enjoy them. Pizza is always a great thing on the menu especially during movie marathons and staying up late for the fun of it.

• Malaysia
8 Mar 12
It is a heart-warming picture you and your mother eating pizza together. To eat together with mother, or father is such a bliss. To think of the times when we were just a kid, how our parents gave us the best to make sure we grow strongly and taught us to be a useful man one day, it is just too much for us to repay the love and care. Now that we are adults and they are old... eating with parents is so simple to do and yet not many of us can do regularly. Do it while there is still time. Do it so that we won't feel sorry one day.

• Philippines
8 Mar 12
Pizza makes me hungry. Pizza at night plus watching TV to just have a chill time plus spending time with mom is equals great bonding time. I know your mom won't argue with me when Ill say that she is lucky to have you because you know how to appreciate whatever your mom is doing for your family.

•
8 Mar 12
I think that sometimes a nive pizza at home with your family is a better option because its more relaxing and you dont have to go to the trouble of booking a restaurant , get bad service etc. It sounds like a good choice and if your mom like it , it sounded like it worked. and Papa John's make good pizza.