it's storming here, my dog is almost in my lap, she is so scared,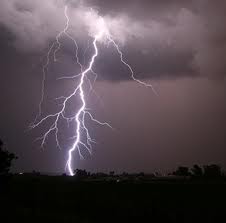 United States
March 15, 2012 4:38pm CST
wow i knew earlier when it started turning all black it was gonna be a bad storm coming, i told the little neighbor girl to go home before the storm hits.. so she left.. i did not want her out running around in the storm.. it does not storm like this here very often, my dog hates it, she is almost in my lap, i had to pick her up and put her on the couch next to me.. she freaked when the thunder started and the lightening struck something and made a big noise.. it was even scary to me, my husband had the windows up so i had to go put all them down, and now it is so very hot in here... and it is so dark outside right now.. i hate storms, but i love to hear it rain maakes me want to sleep,, do you like storms ? or do they just plain scare you like they do me.. esppically if im home alone and electric goes out..
7 responses

• Belgium
15 Mar 12
I agrre with the sound of rain. I like storm but not too strong. Nice thunder, wind, heavy rain are very impressive. But when their is damage on the house it's not fun. Still winter in Belgium so no storm or thunder, where do you leave to have a storm at this season?

• United States
15 Mar 12
i live in the good ole state of kentucky, unfortantly we have had several deadly tornadoes touch down, not here where i live but back in my hometown which was a very small town, i felt really bad for all them, espically the ones at the next town over west liberty ky, they got hit twice in one week by a deadly tornado and it left the little town turned upside down, killing 12.. i feel so bad.. i also had a good friend that lived there i was relieved when i found out she was ok.. i like the rain but not the storms..

• United States
16 Mar 12
It seems that as the weather has continued to change over the years that there have been more and more violent storms. They never used to bother me but these past couple of years there have not only more storms but at a more violent magnitude. I don't believe that I have ever seen weather like this in my entire life. This past winter has been the strangest I have ever seen. Only one snow in December, January and February which was around 2 inches and was gone in 2 days. Just this past month we have seen so many tornadoes. I now get very nervous when I know there is a storm coming. Just last year a tornado touched down just about a half a mile from where I live at.

• United States
16 Mar 12
you were very lucky that the tornado missed you.. i bet it scared you as well.. i know we had a strange winter as well we hardly had any snow, and usualy we have a long drawn out winter but here it is spring and the ugly winter is gone and is was almost like we did not have winter, i wish it was like that every year, but becasue it was mild this year im afraid next year will be double hard and i dread it.. but im looking forward to summer as well and wearing shorts and being outside alot...

• Philippines
16 Mar 12
Hi there laken, I used to have a dog like that her name is bulma, every time that there is thunder she would snuck her nose between my thighs and just shivers, i normally do is i lay her on her bed and surround her with her pillows and her other offspring. How i miss that old dog, anyway i love the rain when it is just normal pouring rain, i dislike storms because it normally floods and people get stuck and my area tends to get noisy when that happens and i feel helpless with all the people outside in the rain. And yeah the rain makes me feel sleepy too and sometimes reminiscent of the past.

• United States
16 Mar 12
well today was not storming and a much better day, i missed the news to see what it was gonna be doing tommorrow.. i hope it will be sunny and nice so i can take my dog for a walk.. she is getting very fat and needs the exercize as much as i do. today was not great outside , but at least it was not raining or storming so i wont complain.. i hope to see lots of sunshine tomorrow

• Vienna, Austria
16 Mar 12
hi laken02 i also experienced that when it was storming here in our place me and my dog is only in the house im using my lap top when my dog run to me and go to my bed because she is afraid on the storm honestly i feel irritate when i here storm i hate it because im scared especially if im alone and the electric goes out... i can say that i have a low self esteem when this case happens to me

• United States
16 Mar 12
yeah i hate being alone when the electric goes out, it scares me too, my mom use to live next door so i was not as scared i knew i could go over and be with her but she has since moved and when my hubby goes to work i am by myself until midnight when he gets home.. so yep i would probably freak if the electric wentt out lucky for us it was only a mild storm with no damamge ... and went thru pretty quick..

• Philippines
16 Mar 12
We still don't experience it now since summer season here in my country. But after summer we really expect the storm, rains and typhoon since our country has a tropical wet climate dominated by a rainy season and a dry season. In that season most of the people who lived in the low ares must move into the higher places since floods and heavy rains expected. Thunder and lights are very scary specially when it cause fire sometimes it hits the tree in some lower area.

• United States
16 Mar 12
wow i could n ot imagine preparing for a typhoon that is wild, as i have never seen one but i do know they can cause lots of terrible damage and i would not want to be near there when one hit, i would love to move to florida as i think that is where i am suposed to be, i felt so at ho e when we went years ago for vacation but have not been back since.. but i wont move there for fear of a hurricane i would not know what to do if one hit except get the heck out.. that is two things we dont have to worry about here typhoon's or hurricanes..

• Australia
15 Mar 12
Yes it was storming here last night as well and I was trying to get a photo od lightening flash but gee that is not easy, I think one has to have good reflexers for that, so now I have to wait for the next stormy night I guess..

• United States
15 Mar 12
lightening makes the prettyest pictures, espically if its dark, i love to go outside after a big storm and look at the sky and almost always will see the most beautful rainbow , i have not seen many in my life but when i get the chance we try to take pics but it does not look near as good as it did in the sky.. it has stopped stroming here as of now but it is still very dark outside and i expect it to come back anytime, i just hope the electric dont go out, im going now to get me some candels and matches just incase.. as itis very dark outside..

• United States
15 Mar 12
I don't mind storms at all. There was only once that I got scared, and that was when lightening struck our electric meter outside and the current went through and popped the light bulbs out of their sockets.

• United States
15 Mar 12
well it looks like the stomrs may be leaving, its getting dark so i cant really tell i will have to shut my door soon. i hate being inside with the door shut i feel so enclosed in. right after my husband leaves i open it up and leave it open unti dark and dark forces me to close it.. the storms can be very dangerous, i have seen alot of damage the have done in our state just lately, some of the houses even catch on fire due to lighening, i was setting on the porch enjoying the cool rain, and then it started lightnening so i had to come inside.. i would ahte to get struck. i have an aunt that wont even talk on the phone when it lightenings..