Does your house tell who you are?

Philippines
April 16, 2012 1:51am CST
As they say, people would know what type of personality you have, or what your interests are, if they see your home. Your home's design and style is a reflection of who you are. At home, most of our decorations are souvenirs from the places we've visited. We have different artifacts and frames that represent the culture of the town or city we bought if from. My favorite is the big wooden mask that I bought from Palawan, Philippines. This collection tells our visitors that we are fond of traveling and visiting places. What aspect of your home best represents you?
5 responses

• Chile
23 Apr 12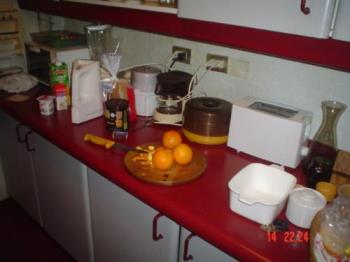 My house is separated in different spaces that say something about what I am. My bedroom is comfy and bright, with a big bed and the only TV set I have at home. It is a place for relaxing. The nighttables are full of books. The dining and living room are kept in order as for visitors

. There I have some good oil paintings, some ceramic plates from trips and it is also the music part of the house. My kitchen is full of gadgets placed at hand so that I can use them everyday. The upstairs has guest room which also harbors about half of my books in a wall to wall shelf. Another room is what I call "my pigsty"

. This is where my computer is and it´s the place where I spend most of my day. Finally there´s a room I have lent to my best friends to put some furniture while they find a bigger house.

• Philippines
23 Apr 12
What a well thought of interior. I hope I'd be able to describe my home that elaborately, in the near future. We are just not investing much on interior for now, especially that our child is still very young and another baby is coming. If we repaint now, they'll just doodle on the walls again. If i start putting up some decoratives, they might just end up breaking them. So, we'll wait till there old enough to behave around the house. I want to put more color and figurines, and vases in the living room. And, in our bedroom, I want it to be the most quiet place with a cozy feel.

• Chile
24 Apr 12
My first daughter broke a lot of ceramic decoratives when she was learning to walk. My fault as I should have placed them higher. Now, when my granddaughter comes for a visit, I take up all the breakables. But still there are lots of thinks that can add to a homey look and not be as expensive. One of my friends at that time placed beautiful oriental drapes that added colour to the room.

• Philippines
25 Apr 12
Right, but sadly I'm not as creative as other moms who can do wonders with recycled stuff. I'm banking on my daughter, because I see some artistic potential in her. Perhaps, when she's bigger, we could do things together and she could feed the idea and I'll be her assistant. A house with 3 ladies and a man could be fantastic.


• Philippines
16 Apr 12
That sounds like a very well-maintained home by a mother who's a real home maker. As they say, a happy mom is a happy home.

• Philippines
7 May 12
Our home reflects us too. We just have a very simple home. There are not so many furnitures. We just have a small space. And just a few rooms too. When I get a good career and earns a good amount of money, we will move in another place and we will have it interior decorated.

• Philippines
7 May 12
That's a good plan. If you have kids in the house, you might want to consider the type of material for the furnitures. Some could get easily worn out with very clumsy and hyperactive kids in the house. Right now, most of our decorations and stuff are made of hard wood. The only glass in here is the dining table and mirrors. My daughter could get really restless and she has already broken my ceramic baking dish..argh


• Denmark
22 Apr 12
There is a lot of art in our home. I am a artist, and our walls are decorated with my paintings and my photomanipulations. In our living room we have many small art posters and most of my favourite artists are represented there. I love surrealism and it is easy to guess that when you look at the posters. On the wall we also have some things from Japan. I haven't been to Japan and the things that we have on the walls are presents from my Japanese friends. If you look at the book shelves you can see that I like two things: Travelling (lots of guidebooks, phrasebooks, mini dictionaries etc) and psychology. A keyboard and a guitar reveal our interest in music.

• Philippines
22 Apr 12
Is that profile pic of yours, one of you artwork? It looks peculiar but artsy. I always admire how arts-enthusiast make up their homes. Most of it are really just simple ideas, but they do it in a very creative way, that it makes it look unique. It must be very interesting to check on those posters and Japanese souvenirs.

• Australia
16 Apr 12
Practical. We're not really into modern or traditional or any particular design or style. Some of our home furnishing are modern, but we also have a grandfather clock. The main thing is that we have everything that we need and even some that we want. And that everyone who lives in it are happy plus whoever comes would be comfortable and feel welcomed.