Cuckoo birds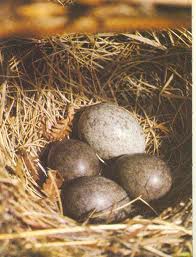 Philippines
April 30, 2012 5:08pm CST
Cuckoos are amazing and interesting. They lay eggs in other nests and let the host birds do the brooding, hatching, feeding and caring of their youngs. Compared to humans, they don't care about their offspring. They offer them to other people for adoption. What do you think of these birds?
2 responses

• United States
30 Apr 12
The cuckoo hatchlings also tend to eat all the food so the other chicks in the nest will die ... but hey, they're cute and I can't say I don't like the sound of a cuckoo bird.

• United States
30 Apr 12
I think these birds are more like humans than you might realize. I know quite a few people who have given their babies up for adoption to be raised by someone else. Maybe the birds do care, and just know that they would do better off with another bird's nurturing because they are unable to do so.