Who would carry the english premier league this season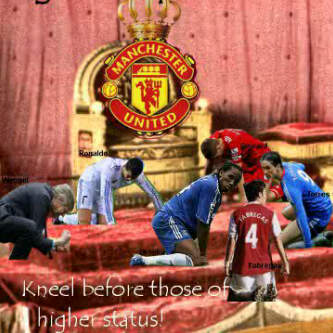 May 4, 2012 6:00am CST
Manchester united all the way, and they are so gonna win the cup again this time. I know they lost to mancity but as we all know there are two matches lef, and city is gonna drop 3 points or share one in at least 1 of the matches ehile Manutd would win all gathering full six points to win the cup. Hope you agree to this as its also represented in the diagram below
6 responses


•
6 May 12
Newcastle is so gonna disgrace Manchester City.Hopefully


• Malaysia
4 May 12
Hi Buddy! For sure we will win if we keep our optimism and look at it positively! Life is full of twists. To fight till the end is what we have been doing and what we do best. For all the might of the great red devils, the player that will win the title for Manchester United is not a Manchester United player. That guy just scored a wonder goal and has been fooling the EPL goalkeepers since he came to England. May God bless him!

•
6 May 12
LOOOL , Yer God would bless him. And yer we are very optimistic , we are not dropping or sharing any points again. And we are so gonna increase our goal difference so even if MC wins their matches , it won't matter, although you and I know MC would either drop 3 points or share 1.

• Malaysia
6 May 12
These guys in blue didn't seem to want to follow our script. But they still have one last chance to prove their loyalty and to conform to the norm. They will have a good excuse to use: to give face to an ex-colleague of them as well as to save him the job at where he is working. The boys that at Her Majesty's service will, for once, work hard too, having been sleeping on the job for most of the season.

•
6 May 12
It really is a toughie to be honest, Newcastle look like the team of the month to be honest they are playing with confidence and deserve the fourth spot more than anyone else in my opinion, but we are talking about City here they are different kettle of fish compared to Chelsea. Manchester United don't have it easy to, Swansea yes their away record is appalling so i expect a 2 or 3-0 win for United but Sunderland away is a very hard game, Martin O'Neill is no pushover and will give United a game.

•
6 May 12
The odds are gonna be in manutd's favour, they juyst have to carry a cup and it would be the premiership title.

• India
4 May 12
I think Newcastle would be the title deciders this season. I think their match against Man City holds the key. If Man City manage to win that match, then I think they take the title. I am pretty sure that Man United cannot overcome the goal difference and so they require Man City to stumble. Cheers! Ram

• Indonesia
4 May 12
like or dislike, now manchester city is more favourite than MU.. but yes, this week they must week Newcastle, the favourite for playing in champions league chelsea had known how tough newcastle especially cisse and ba.. so MU now must hope Newcastle once again make amazing something

• Singapore
4 May 12
The title is in the grasp of Manchester City. Having come this far into the season, Mancini's side is definitely going to give their all given how badly the team wants it. That was shown in the match against Manchester United where they won 1-0 at home. However, with Newcastle's players, especially Cisse, in good form and high morale after beating Chelsea 2 - 0, it will be a difficult task ahead for Man City but I believe they have got the talent and ability to defeat Newcastle and Queen Park Rangers in the days ahead.