JUSTIN BIEBER.....The Young POP STAR.??what do you THINK???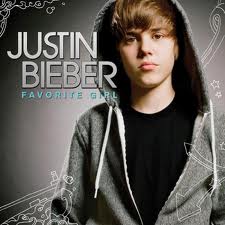 India
May 9, 2012 8:37pm CST
Justin Bieber the emerging teen pop sensation,that made the whole world to gaze upon a 17 year old being living up his dreams with 22 million and above album sales across the world,and he recently published his documentary movie"never say never,"and what do you guys thing about his singing,and does he worthy of the title "THE YOUNG POP STAR"????????
5 responses

• Philippines
10 May 12
There's no doubt that he worked hard for those stuff. But the big problem here is the fact that most of his songs don't really have heart. I am sorry to be blunt about it but just listen to the songs he sings. Yes, he has a good voice but he will only be known as the kid who did that.. So what happens when he's older? Compare the same with Michael Jackson who started out young too. What's the difference? Michael Jackson songs have hearts and souls. He wasn't known because he's a cute kid. He didn't become a Pop Star because of hanging out with other people who were already 'known'. There's something wrong with Justin's songs (and most of the other artists these days too). There's too much marketing and exposure but you wouldn't really remember the songs because you cannot relate to them. Look at Adele. She's been there a long time. But just listen to the words, the voice. You don't need to know her to be able to feel something with the songs she made. Classics are born out of heart and soul in the songs. Fads are kept because of marketing and dance steps. I am not a Justin Bieber hater nor a fan. I just saw his life story in HBO and found that he has potential. Too bad he's not molding those in his songs. Have a great MyLot experience ahead!

• India
10 May 12
ya....you are right!its all about marketing today..hope he will bring up quality songs in future..and thanks for the response much appreciated.



• Philippines
13 May 12
i have observed that too.. he's really getting more famous and girls went crazy for him.. i don't know why.. he always be the trending topic on twitter.. i haven't familiarised any of his songs simply because i am not one of his avid fans.. i don't feel like to be one though

• Pasay, Philippines
13 May 12
No, I don't find him a great artist. he may have the mushiest lines in his song but he never brings out the best of the true feelings behind those songs. I don't know why people keeps on buying albums for the sake of fandom and not for quality music listening. Go ahead Bieber-maniacs; rant! I can defend my grounds. LOL ^__^)Y