The new Avengers movie - Fantastic!!!!

United States
May 19, 2012 8:44am CST
My son, daughter and I saw the new Avengers movie yesterday! It was ultra fantastic! Especially the actor who played Bruce Banner - I've never seen a more perfect actor for the role. He captured the essence of the doctor perfectly. And seeing RD jr. as Iron Man again made my day! This was my birthday movie - my birthday was Tuesday and we were going to go that day but weren't able to. So we went yesterday and I am sooo glad we saw it. All those hunks on screen was a great birthday gift - between Capt. America, Iron Man, Bruce Banner - and Thor - along with Samuel L. Jackson and others - eye candy for me. Who needs hershey when you've got those guys?
8 responses

• Philippines
26 Jul 12
ohmygosh. I loved the movie too! It was just spectacular. I usually do not go for action movies since I prefer romantic comedies but my friend keep wanting me to go with him and watch this movie. So I said "what the heck" and I gave it a try. To my disbelief, I actually enjoyed the film! Did you watch the after credits at the end? Happy mylotting.

• United States
26 Aug 12
Yes, I did! Sorry it took so long for me to respond. Such a great movie.

• Philippines
20 May 12
I loved the avengers too. Although i was still bothered that Ed Norton didn't come back as bruce.. Mark was okay- the Hulk was funny.

But my favorite is still Tony Stark- since he is really funny, a genius and still willing to sacrifice this life t save the world. belated Happy Birthday.


• United States
20 May 12
My daughter also had liked Ed Norton as Bruce - but she did agree with me that Mark was also wonderful - if they had to replace Ed, they couldn't have picked a better actor to do so. And I will always love Tony Stark best for the same reasons you do. Thank you for the birthday wishes!

• United States
21 May 12
They ARE friends! Is that cool or what? LOL~!



• United States
19 May 12
Don't wait! There is something about seeing it through 3D glasses that cannot be duplicated on dvd or streaming on computers! The 3D effects are so stunning! And Joss Whedon delivered so much with this movie - a perfect blending of those superheroes. I am cheap, too - we went to the matinee showing which is a couple dollars less - it was still nine bucks per person - but 27.00 was fine for such a blockbuster movie.

• Philippines
20 May 12
The Avengers was great! The only thing I regret is not watching on 3D or IMAX. If it's still showing, might try to catch it again. Your comment just convinced me!

• Philippines
19 May 12
I also loved the avengers. It's good that I tried anyway even if I read a bad review about it before. So great!!!! I loved hulk!!!!

• United States
19 May 12
Bad reviews vs. one billion plus...let's see - who was right? LOL!


• United States
26 Aug 12
I am so glad you enjoyed it, youless! Not only famous actors and actresses - but good famous ones! All roles were perfect - I thought.

• Philippines
26 Jul 12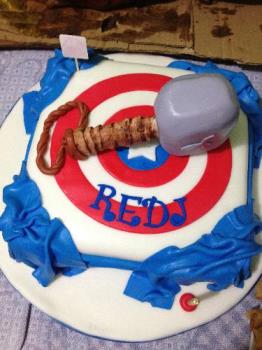 Oh cool, when's your birthday? I am a May-born too.

I was excited about the movie too when I heard that it would be shown in May in theatres. We watched The Avengers on 3D the premiere night in our local cinema here. I went with my 4 cousins, 2 sisters, and my other sister's brother-in-law. I liked the superheroes in the movie but even the villain, Loki, was looking hot too. There aren't a lot of movie villains that you'd love to love.

On my birthday, my cousin designed a cake based on The Avengers - Thor's mjolnir/hammer and Captain America's shield.


• United States
26 Aug 12
Sorry I didn't see this til now! May 15th - right smack in the middle of the month. My birthday always falls after Mother's Day - either by one day or a week lol...I love the cake!

• India
24 May 12
The Avengers was one hell of a movie, I liked the way they made the film. 6 super hero did fit well in the film, The Avengers is worth watching ...

• Philippines
21 May 12
I loved the movie too! I watched it in 2D with my sons. We enjoyed the movie so much that we decided to watch it again in 3D with the whole extended family on our holiday in RW Genting! And yes, the excitement was the same. My kids loved it as if watching it for the first time. I especially like the action, humor, and wit put in the movie.

• United States
23 May 12
Oh it was soooo good! My son and daughter and I had seen the two Iron Man movies, Capt. America, Thor - and were so looking forward to this mixture of superheroes - Joss Whedon has done it all now! Successful t.v. series (Buffy, Angel) - a musical - Buffy season 6 - a horror movie - And now one of the three movies to make a billion plus in just three weeks!