Mark Zuckerberg tie the knot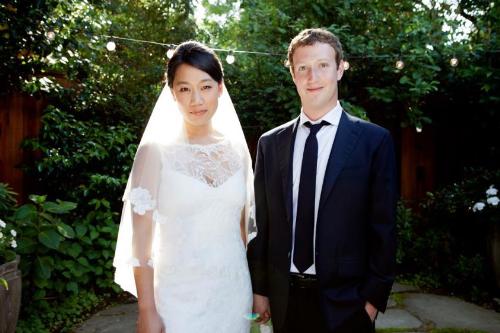 Philippines
May 19, 2012 10:49pm CST
Yesterday at his backyard Mark Zuckerberg married to her long time girlfriend priscilla Chan. The wedding was simple and all the guest haven't thought that it was a wedding at all. While many of us have dream a huge and engrande wedding the billionare CEO of facebook choose it to be simple, no prenup and no press at all. How beautiful and how lucky this couple, hope that many will follows this simple wedding of Mark and Priscilla
9 responses

• Philippines
20 May 12
That is such a good news. I have read some news about that too and they seem like a happy couple. They just had the wedding at their backyard with not more than a hundred guests. Mark Zuckerberg's backyard must really be huge. I also heard that they the announcement was even made on Facebook which I thought was pretty awesome and eventful. It's hard for a CEO like Zuckerberg to find love amidst all the fame and fortune but we're all glad that he was able to stay in a good relationship with her long time girlfriend. Although I must say, I didn't actually know that he had a girlfriend.


• Malaysia
20 May 12
Well, the girl and mark himself in the "Social Network" movie is more good looking. But hey, hes a billionaire. Nevertheless, he is very lucky because being a rich guy is kinda hard to find a girl who really there for us through tough times and love them the way they are.


• Philippines
22 May 12
Oh yes, it was all over the news..

The wedding was nice, it quite sneaky of them to just hold it there without the grand stuff, it's a way to not alert the media..

I hope they have a wonderful marriage..

• Philippines
26 May 12
A humble person indeed, even though he is a very successful man, he don't want to create a much hoopla about it. I think he is also a very secretive person. Maybe only his close friends knew about his girlfriend of ten years. I really admire this guy.

• Philippines
23 May 12
I saw their wedding picture on Facebook the other day and I was surprised and at the same time happy for them. The girl is so lucky.

• Philippines
22 May 12
Hello Airkulet,

It's a good thing that you get the chance to tell us about this. for one of the biggest Internet entrepreneur, he sure knows how to save money and keep it simple.now, that is something for every one to get inspired it. I am sure inspired that be careful to spend your money. have a nice day



• Philippines
22 May 12
you are right many couples of today haven't think what will happen after the marriage while they demand everything fancy on their wedding day then end up broke after because the money was just a loan to throw a grand wedding, I knew some who spents half a million for a wedding then after the guy needs to work really hard in abroad just to pay the debt

• Philippines
20 May 12
Congrats to them. Sometimes being simple makes us happy and worth it. They always says that it the thought that count and I believe in it. It is not matter how grand or simple it is as long as they love each other, it is okay.

• Philippines
20 May 12
Congratulations to the newly weds.

They maybe billionaires, but still they desire privacy for their tying the knots, so maybe that's why they chose a simple wedding.


• Malaysia
20 May 12
Yeah. But personally, i am not interested in any kind of what Mark is doing to going to do. Maybe the media will be interested.

• Philippines
20 May 12
We may not be interested on him, but we should also be happy for him, because he has given us a big contribution in our lives. Right?

• Australia
26 May 12

I wish them a lifetime of happiness... They've been together since college days and I hope they'll maintain their down to earth attitude. She does not strike me to be one who marries him for his money. Even after he becomes a billionaire, she drives a simple Japanese sedan and maintain a simple life style. Her beautiful wedding dress reportedly costs less than 5k only. And she definitely made something on her own herself, she just graduated from Medical school; the guests at their wedding originally thought they were invited to celebrate her graduation...

• Malaysia
20 May 12
Congrats to them. And i think those big grand weddings are not needed at all even though the person owns a planet. A nice cool on a wedding day would be enough because they'll get crazy on their first night as husband and wife.