I'm so proud of him!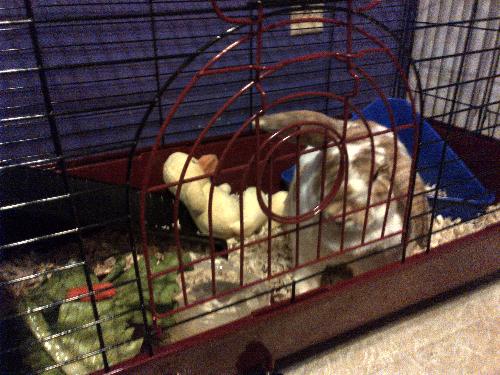 Canada
May 29, 2012 12:30pm CST
Marco has a stuffed Duckie that came home with him. I remember when I went to look at the rabbits at the Humane Society he had it beside or under him if you tried taking it he would rip it out of your hands. Since bringing him home I thought he would do the same. I put the Duckie in the cage with him, it hasn't moved from the spot I put him. He isn't even bothering with him either. I did buy him a few toys from Pet Valu the other day and he seems to be playing with them. But he won't out of the cage yet, so babysteps on that.
4 responses


• United States
29 May 12
Awe, he is beautiful! The ducky is cute, perhaps if he doesn't need it anymore like in the shelter it means he knows that he now has a furever home. He will be more responsive to you as the time goes on I'm sure. He loves his new toys, how cute is that. I never even knew rabbits played with toys. It will take some time for him to get to "know" you, if you play with the toys with him it might become easier. He will also figure out that you feed him and love him in other ways and will be a happy bunny in no time.

• United States
29 May 12
Maybe his "duckie" was a security blanket for him, and he doesn't need it. He'll come around to you eventually. I wish we had room to keep a pet like Marco, no room here.

• Canada
29 May 12
Awww he's just so entertained he is ignoring his duckie that probably means he's just to busy to obsess over it and he feels no reason to be possesive