What Is Legal? Altering a still clip from video~ HELP!

United States
June 15, 2012 6:22pm CST
I have a picure of Jesus I found on the chest of a rabbit statue in a YouTube video (the trees shadow on the rabbit). I froze the frames and then zooned in and made a photo like picture using about 7% of the total clip (a small area on the chest) When framed in paint it looks exactly like Jesus as seen on his cross in churches. It is almost like a photo was embedded in the video. I have asked repeadely if I could show it, but the woman wont reply because I wont show here where it is, and I think it will gett her millions of youtube hits...so she quit replying and wont give me written permission to show it. but she hasn't said i can not either. Can I show the portion of that one still frame of video in a small portion like I said in order to show people what I see, in say, an article pointing it out and describing exactly where it is found? What is the legality of this if I did? Is it allowed at mylot? I am baffled.
8 responses

• United States
15 Jun 12
Hello PoppaDave It seems that if she hasn't copyrighted it, you may have rights to do with it as you please. But then, I'm just making a stab in the dark. Or, in the shadow of the rabbit...

• United States
15 Jun 12
Have you seen the picture of the dog's butt where you can see Jesus?

• United States
15 Jun 12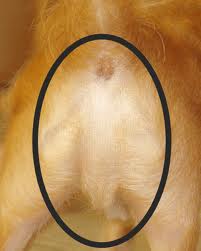 Here it is. To be fair, I first saw this posted here on myLot, about 4-5 years ago, by a guy named, Alfie Klondyke.


• Omagh, Northern Ireland
15 Jun 12
If the video is on youtube,then it's openly available to anyone to see..I'm not saying you should,but if you give the video person credit with the details of the still you took from it,then I don't think you could be accused of ripping them off..but not being an expert,check what the situation is regarding copyright on Youtube!

• United States
15 Jun 12
Ok, I will even try to contact them , since she gave up answering me 2 years ago.

• United States
16 Jun 12
No such luck, the stuff refering to copyright is sketchy and they discalim alot.


• United States
16 Jun 12
No, no, no... just because something is posted online doesn't mean it is free for the taking!


• United States
16 Jun 12
Id say that if the person you saw it on had not copyrighted the video then it's fair game. Don't quote me tho.

• United States
16 Jun 12
All creative works are copyrighted as soon as they are made, even if the person who made them hasn't registered the copyright.


• United States
15 Jun 12
Man that is a tough one! At least you tried getting permission from the owner. I don't think that there are any rules against a still picture. As long as you can't see anyone in particular in the background I would say go for it!! Maybe you email you tube's help and see what they say.?.? Otherwise when you post the pic you can just say you discovered it on a video you don't have to specifically say where you found it

• United States
15 Jun 12
Ok....lets say it is like this: I watched the video, stopped it, saved a photo from where I stopped it. Clear as day, there is Jesus in the rabit(the trees leaves leave a shadow, but it looks like a photo layed into the video. All you can see is the whoite background. you can not see the rabbit itself. like I said, the area I took this from is about 7% of the video picture I saved(the middle of it) I am seeking whether or not I can leagally show that small clip(photo choped in paint program) if referencing the video and at where it is located, who posted it, what site etc. Nothing in the video mentions that there is a photo or picture of Jesus in it. Can I, under the guise of news, show what i found and where as long as I do not post footage? Someone has to know, this is a greay area and I can not find deffenite answers online.

• Canada
16 Jun 12
no she has to give permission or it is infringement of copyright laws

• United States
16 Jun 12
I think the type of use you've described probably falls into the "fair use" category. You're only using a small bit of one frame to illustrate the point and show where the image you see appears, right? A lot of the judges' decisions on copyright infringement vs. fair use cases focus on if the person who used the copyrighted work took the "heart" of the original work. It'd be a real stretch to say that taking such a small portion of a single frame would be taking the heart of the whole video, wouldn't it? Your use could be considered transformative because it's highlighting something caused by the environment and not something the video's creator or the sculptor who made the statue deliberately put there. Here's a really good site that explains the guidelines for fair use better than I can: http://fairuse.stanford.edu/Copyright_and_Fair_Use_Overview/chapter9/