Comfort Foods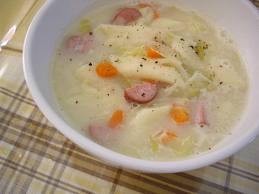 Philippines
June 18, 2012 11:54am CST
Its rainy season again here in our country and now is the best time to cook those comfort foods that we usually love to it when its cold and raining hard outside. I love cooking Sopas with lots of cabbage and carrots and the soup is very creamy. Then I'll combine it with pandesal or monay and its so yum-yum... Or cook something that is spicy like Beef Mami (authentic one not the Lucky Me or Maggi one). Then on merienda you'll have Champorado topped with milk. What about you guys? What is your comfort food when its raining.
5 responses

• Chile
2 Sep 12
Hi freimind, We are about to begin Spring in my country. But during Winter, I also think that soups an creams of all kinds are good starters as comfort food. Some of them are hearty enough as to become the main dish. I grow some veggies in my garden, so most of my soups have some leaves from my plot


• United States
21 Jun 12
While I am one that will typically turn to the comfort foods during the cold months of the year as opposed to on days that it is raining, I will admit that there are some comfort foods that I really am a huge fan of. I love to make Chicken Pot Pie from scratch during the winter time because it is so yummy and makes you feel so comfortable. Another thing that I like to make is pasta dishes from scratch because they are fun to make and they are always yummy.

• Philippines
19 Jun 12
Noodles for me, the instant one. I know it's bad, but that's just the easiest and fastest one to prepare and eat. I feel really lazy when it's raining and I just want to lie down most of the time. Champorado as well is great only when my mom is the one preparing it and not me. Am I just too lazy?


• Singapore
19 Jun 12
I prefer something ho and spicy when it's raining. Such food tend to warm my stomach, keeping me warm in the process. Nothing beats a sweat in such cool weather. If i'm not lazy, i would cook a huge pot of curry, real hot and spicy pot of curry, feasting on it throughout the day. If i'm lazy, i'm comfortable with Korean cup noodle, that's a little sour and spicy. My kind of comfort food depends on my mood for the day, at times, even ice cream can be my comfort food.

• United States
18 Jun 12
Chicken noodle soup is one of my favorites when it is raining. Anything hot actually, so you feel warmer inside. Mac and Cheese is good too, or spaghetti!