i want to sell my phone but i don't know how much i should sell it

Philippines
June 20, 2012 11:22pm CST
there are so many cheap phones now even dual sim but locally made. but mine is not dual sim but nokia brand. it is colored screen and old school. so i don't know if i can sell it in nice price. with lots of cheap phones now. my phone is nokia 3110c. so maybe i can't sell it for more than $25. maybe i can sell it only for about $15. because i want to buy a new one a dual sim worth $25.
6 responses


• United States
21 Jun 12
That's not exactly true. Phones do sell very well on online stores like E bay and Craigslist. I have sold many old phones, if she looks up the price that the typically sell for used she can get a good idea of what to ask.


• India
21 Jun 12
If you need to get paid more for your phone, Just go to different shops and ask them about the money which can paid for your phone. This will help you to get different rates from different shops and sell your phone to the shopkeeper who pay you the most. This is the some of the trick which I used to implement in my life while I sell my phones or other items.

• Philippines
21 Jun 12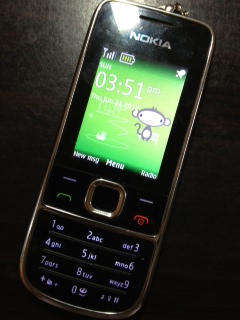 Phones these days are really relatively cheap. I've been trying to sell my phones since they're service provider freebie phones and I don't need them since I got a good phone. I was able to sell my Samsung touch screen for around $70.00 but it was my aunt who bought it. My Nokia 6120i, I gave to my dad. Now I'm trying to sell my other Nokia (I don't know the unit number but it's found in the photo. I think you can just try selling it at $25. I'm pretty sure that they'd try to bargain, and if you find a buyer then that's good. But as far as I know, dual-sim phones are not that expensive too. Have a great MyLot experience ahead!

• United States
21 Jun 12
Take it to te store and see if you can trade it for the one you really want.

• United States
21 Jun 12
Twenty five is exactly what I have my old cell phone listed for on Craigslist. It's a model about two years old, Samsung. Look up the exact model online and see what they go for used on places like E bid, Craigslist and other sites. I'm selling mine without the card, I had too many problems with my other phone still being under contract and needing a PIN even though I cancelled it.