Tom Cruise Cheating on the Set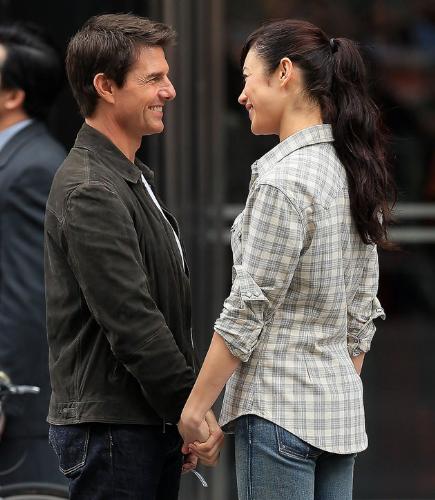 Philippines
July 6, 2012 4:16am CST
Could this be the reason why Katie left him or another publicity stunt for his new movie?

Rumors has it that Tom Cruise was caught getting cozy with his Oblivion costar Olga Kurylenko. Tom and Olga were spotted holding hands and looking smitten when the cameras were off. Maybe he was just friendly or people around them is just speculating a lot of things since Tom and Katie got separated while he is filming this movie. What do you think guys? Is this the reason why Katie left him or just one of the reason and not the main one?

5 responses

• Philippines
6 Jul 12
There are a lot of speculations about why Tom and Katie parted ways. I've read a few in which Tom's Scientology beliefs had somewhat made their marriage a bit difficult. Some said that Katie was the one who cheated. Well, in the world of celebrities, it's really hard to know which is which. It might even be a publicity stunt like what you've said. One thing's for sure. Tom's preference for women taller than him is still evident


• Philippines
7 Jul 12
Yes I read that too about his infamous religion the Scientology. It says in the news that Katie was fed up with his ludicrous behavior and his faith to the religion. Its just sad for their daughter since she's very young and might be confused with what is happening around her now that her mom and dad are separating.


• United States
9 Jul 12
I honestly believe that the reason that Tom Cruise and Katie Holmes are currently separated are for reasons that the public might never know. The reason that I think that this is the case is because in every relationship (even those that are constantly in the public's eye) there are things that do go on behind closed doors that the public will never know about. I think that there is something much deeper going on between the two of them that is causing their marriage to come to an end.

• Philippines
6 Jul 12
Well, they are celebrities and knowing how famous and rich Tom Cruise is. Who can't fall in love with him. But I don't think Tom is cheating on Kate. Kate just want to gather more evidences to support her divorce- but I don't think that cheating is the main reason.

• United States
6 Jul 12
I think she left him because she wanted to be more famous than she is now. He will always get the girl so she is done with him I am happy he is with someone who may love him like he deserves. she might have cheated on him.