Public Schools Going Non-Coed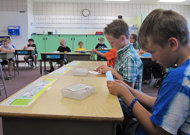 Philippines
July 11, 2012 8:48am CST
Do you think this is going to benefit the students more? I read an article about this and the main school in question is the Middleton Heights Elementary a public school with classes only for girls or boys. I read about their reason and why they are doing this and it seems that the students are benefiting from it since they can concentrate on their studies. This also happened to me when I was in gradeschools. When I was in 2nd and 4th grade boys and girls are separated while on the other grade level its coed. We can still see the boys in our school and talk to them and even participate with them on extra curricular activities. It didn't do any harm to me or any other classmates of mine since we still know how to relate with the boys. I think it depends on how the schools are handling this and how they are going to benefit the students.
2 responses

• United States
13 Jul 12
I actually always went to schools that were coed and I think that is really the way to go. The reasons that I feel this way is because it does encourage boys and girls to socialize with one another. I found when I was in college that many of my classmates that had never gone to a coed school had a difficult time with socializing with the opposite gender. Though I do think that there are some classes which should be segregated, like health classes. However, I don't think that schools should be fully segregated.

• Philippines
12 Jul 12
Hey there, Well I think this is vital to the growth of children educationally , if there would be an actual study to support this , that children can focus more if they only have classes in the same gender then i think schools should start considering this move.