How I learned about One Direction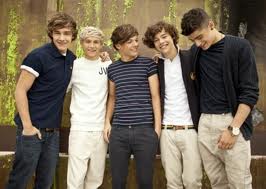 Philippines
July 11, 2012 10:22pm CST
I'm a big fan of boy bands. When I was in my teens i listened to Backstreet Boys, N'Sync, Westlife and the others. Now I'm a fan of One Direction (1D). Yes, they're a bit young for me but I love their songs and they're really cute that I want to cuddle them. I learned about them by accident really. I am following Grant Gustin (Sebastian Smythe on Glee) and one of his fans tweeted that Grant is the 6th member of 1D. I got curious then I learned that they were British/Irish boy band formed at the X Factor UK 2010. They're really good for a young boy band. And of course, there's the hysteria that only a good boy band can create. It's like Beatles mania. They're celebrating their 2nd year this July 23 and in this small space of time their album got multi-platinum, debuted at No.1 in the US Billboard, 1 Brit Award and other awards and nominations. I'm like re-living my teens. So proud of them and I'm proud to be a Directioner.
2 responses

• United States
12 Jul 12
I heard of them because of my children. I did not know they were winners of the X Factor. To be honest I have only heard one of there songs and it is quite catchy. That is a great accomplishment for them and I hope they continue. Since you are a big fan of boy bands, have you ever heard of Big Time Rush (BTR)? My daughters love them. The older one is 15, and they also are quite cute. Let me know what you think of them.

• Philippines
12 Jul 12
They didn't win the X Factor, just 3rd place. I have heard of Big Time Rush but haven't got to hear their songs yet. Will check them online sometime. 1D's success was inevitable though because they're one of the youngest boy bands now and they had the advantage of a good lift off from the X Factor.

• China
13 Jul 12
I wanna listen their song,would you like to share some good songs?