I Cannot Understand Why Some People Don't Use Taxis To The Airport..

Carlisle, England
July 13, 2012 6:17pm CST
..but then again. I rang Mum earlier and we had the usual laugh and a joke about everything. During our long conversation we got onto the subject of booking taxis to airports. The pair of us agreed that the taxi is part of the whole holidaying experience and neither of us can drive anyway so we haven't got much choice. However, the in-laws tend to get their daughter to drive them and it would cost exactly the same if they went with a taxi firm.

Anyway, Mum told me a funny story about the last holiday abroad my parents went on - to Torremolinos. She told me that going to Manchester Airport was brilliant. They were sat in a luxurious vehicle, the driver was nice and friendly..everything was cushtie. However, coming BACK was a different story. Upon disembarking their plane in Manchester they got into the Arrivals bit of the airport and Mum said to Dad, "Look at him over there..I think he's our taxi man." Now, it wasn't the same guy who took them. For some reason the taxi firm sent someone else. Also, he wasn't in a posh vehicle. Mum said it looked like it was falling to bits and he was "reluctant" to lift the suitcase into the boot of the car. Even Dad decided to sit on the back seat with Mum as he thought "something wasn't quite right." The guy stunk to high heaven as well, apparently..and wore a string vest as it was boiling that day. Halfway home the taxi driver (who never shut up, according to Mum..and kept moaning the whole time) decided to park the car at a service station. He came out armed with something to eat and a bottle of water. He drank from the neck of the bottle then PASSED IT TO MUM! Bearing in mind this guy "looked like he was about to murder us" according to Mum..well, you can probably guess that she declined his offer of a drink.

Mum has been away with me since then but not my Dad, although he's not really well enough to go anywhere now. Mind you, that taxi experience has probably put him off for life. Have you ever travelled in a taxi that was er..far from perfect?

11 responses

• Philippines
13 Jul 12
It's funny how you described everything including how the driver smelt.

Yes, I have...to answer your question. Especially in my country where many cabs are like how you described that taxi sent to pick your mom up. Could be worse.

And, yeah, many cab drivers talk as if there's no tomorrow and all you can do is just nod or smile. Some are amusing. Some are freakish. That's why I learned to keep a pepper spray with me. Afraid that I chance upon a cab with an ex-convict driver. If you know what I mean.


• China
16 Jul 12
If one runs across such a driver he is really out of luck.He was really ill bred.How come the taxi firm should take on him ? If the firm make use of too many this type of people,it is only a matter of time that the firm shuts down.Sadly,that time Your parents' holiday had a fly in the ointment.

• Carlisle, England
16 Jul 12
Fortunately, airport taxi drivers tend to be brilliant but this one obviously wasn't in the mood for driving on such a hot day. As you can imagine, it's rare for it to be hot in this country, especially in the Manchester area where they were being picked up from.

• China
17 Jul 12
Over here if it is hot day,the drivers normally turn on air-conditioning in taxi.I guess the taxi firm may not install it because it is usually cool in summer there.

• Carlisle, England
20 Jul 12
Some taxis do have air conditioning but I don't think it's on very often lol.



• Gold Coast, Australia
14 Jul 12
I never taken a taxi to the airport as they are too expensive. In the past we have had friends drive us there or recently when going to the Brisbane airport instead of our local Gold Coast one, we caught the train which was cheap and very easy to do. Takes you straight there.

Then when getting out at our destination, we usually rent cars so we get a free shuttle to the car rental place or to a hotel. In the USA in 1997 I did get a taxi from Buena Park near Disneyland up to Pasadena which was well over an hour away and an interesting journey. My friend and I had too much heavy luggage to carry and the public transport in LA is not good. Anyway, our luggage did not fit into the boot (trunk for Americans) of the car so the driver had to tie the lid shut with rope. He was not happy about that, then he got lost and ended up driving the wrong way up a one way street to the horror of us and all the other traffic. He then stopped and looked at his map for ten minutes before going on. He got lost again later in the trip too. His tail light also fell out as we rounded a corner at one stage. We heard this clanking sound and then as were were unloading noticed the light was completely missing! As the trip took longer than it should and he wasted time on the meter, we decided not to tip him which he was furious about, so he lit up the tyres in anger as he stormed off down the road after arguing with us. Idiot!



• Carlisle, England
14 Jul 12
Hahaha! Mum told me that my Dad actually TIPPED this lunatic taxi driver even though he thought he was "dodgy." Not surprisingly, Mum was furious about this. From Layton where Mum and Dad live there is a train station and the Manchester Airport train does stop. However, only my nephew Tom and his Mum have used this service and they cut it fine too as the lazy mother insisted on catching the "later" train. They nearly missed checking in at the airport as a result.


• Gold Coast, Australia
15 Jul 12
We also had a crazy cab driver in New York drive us from JFK airport to Times Square. He seemed to know his way as he was driving pretty fast so we asked him how long he had been driving cabs for. He replied with one day!

So we asked him how long he had been in New York for and he replied a month! He was from Pakistan I think from memory and one speedy driver!

Yep, we caught the early train to the airport just to be safe. We had heaps of time, but that suited us just fine when travelling with the kids as everything takes ages to do!


• Carlisle, England
15 Jul 12
Yes, I can imagine. I remember my in-laws being "ready for the airport" about 3 hours in advance whilst in Las Vegas.

If it was now I'd put my foot down and say, "You go on on your own, we shall follow you later." No way would I purposefully travel to an airport well in advance like that and - to be honest, I don't know why they had to do this either. After all, both my Mum and husband smoke so once they were in the airport that was it. No wonder they were tense the whole time!!!


• Chile
21 Jul 12
I always go and come from the airport in a sort of collective van working at the airport. It`s not expensive if it`s just one person and leeaves me at my door. But I know some people who expect their folks to take them, no matter what the time of the day. A trip to the airport from where my friends and I live is about 1 hours. It means disposing of 2 hours of someone else`s life. OMG!!! I have never been able to understand that.

• Carlisle, England
29 Jul 12
Well, in the case of my in-laws..they had their daughter taking them at around 4am to Glasgow airport, which is about 90 miles away. No way would I do that if I were her, especially when a taxi-driver would rely on airport runs (as they're called) for his money. All the taxi firms would charge the same so why they're not trusted by my in-laws, God only knows!


• Australia
20 Jul 12
No chance of that happening here. There are so many rules and regulations. Lots have to do with OH&S so there is no eating or drinking in a cab. Drivers have to wear a uniform and be well groomed and well presented and the cab has to be scrupulously clean and well maintained inside and out.

• Carlisle, England
20 Jul 12
Well, fortunately for us (and I tend to use taxis when I'm at Mum's, it's miles to go anywhere from Carlisle) Manchester Airport is only about 45 minutes away, depending on how fast the taxi driver goes..so it doesn't really matter about not being able to drink. Mind you, my Mum smokes so I don't think that would go down very well as she wouldn't be able to smoke in the airport either!


• Singapore
15 Jul 12
That's a very interesting story. I've taken the taxi to the airport many times each time without incident except for one occasion when the taxi driver was so tired out that he almost fell asleep at the wheel! He had to slap himself constantly in order to keep awake. At first I did not realise this but I just hope that we could reach the airport safely and we did. He then apologised profusely and said he had a tough night. I advised him to go somewhere and take a rest before resuming duty. I did not report him as I wanted to give him a chance.

• Carlisle, England
15 Jul 12
That was good of you do be compassionate in this instance as it was probably the taxi firm making him do all those hours in the first place..or they could've been short-staffed or something.


• Malaysia
15 Jul 12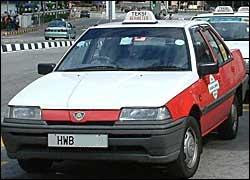 Your parents' taxi trip story is a good read. But we don't really have control over which taxi driver to take us when the taxi we have booked arrives. But the guy with such wear "string vest" to drive his taxi is amazing! Offering water that he has drunk from the bottle to your mother... was he trying to be funny? As taking taxi to airport in my city is very expensive, we usually get our friends or relatives to drive us, and in return, we do the same to them when they need us.

• Carlisle, England
15 Jul 12
Cool looking taxi, I like it!

I don't know if the string-vested taxi driver was trying to be funny or not but judging by how miserable he was I guess he wanted to infect Mum with some disease..or something. Haha!


• India
14 Jul 12
Well it is very important to have time management whenever one is leaving for the airport. be it the public transport like buses or taxis or own transportation, it is advisable to reach airport on time. I have always travelled via a taxi to airport in view of the luggages that we carry.

•
14 Jul 12
If I were your mum I would have reported that taxidriver to his company. She and your dad were the customers and it sounded very much though they were fitting in with his schedule rather than the other way round except they were paying for the privilege! I have had many unpleasant journeys in taxis; usually because of a lack of hygiene of either the driver or the interior of his cab. When we lived in London there was a particular taxi firm that we always avoided because they could somehow managed to inject a strong smell of stale curry into the upholstery! Conversely, there was a firm of Lady cabs who were very popular because not only did women especially feel safe with them but their cars were bright and clean.

• Carlisle, England
14 Jul 12
They weren't pink by any chance? I love those cabs..the ones I've seen on telly anyway. Mum did report the driver to the taxi firm that sent him. She wasn't convinced he was a real taxi driver to be honest.


• United States
13 Jul 12
Actually is just not feasible, here in the Usa where I live, to take a taxi to the airport...Now there are lot of people who do but they are a lot closer to the airport.. I think the story your Mum shared with you is kinda shakey. I don; blame your dad, that type of reaction would give me a different look on the idea of taking taxis as well...

• Carlisle, England
13 Jul 12
Well, thankfully they weren't driven into a field and murdered. Mum did complain about him actually to the taxi firm he was from. She said something about him "not being up to the usual standard expected from your firm."

No doubt he covered his string vest up after that 'phone call.