What do you do when you get "out of the mood"?

United States
July 14, 2012 9:19pm CST
I mean for crafting! I just got back into crafting after about 10 years of totally NO crafting. I started quilting again. I made so many and had so much fun. Then I had to stop for a few other issues, and now... have no inclination to start again! I have a brand new machine, plenty of fabric, all set up and still...after stopping for a few weeks...I can't make myself go back to it! Got any suggestions?
6 responses

• United States
15 Jul 12
Find a reason. You know as a gift or for a charity.

• United States
15 Jul 12
Good thought, but I get tired of always doing for others! Don't take that the wrong way, what I mean is I do for others and it is never returned! I have just made some lap quilts for the ladies at my old church for their cold mornings of prayer meetings. Done for all my kids and I guess I should do for myself now. I guess my reasons are getting few and far between!

• United States
16 Jul 12
Never anything wrong with doing for yourself once in a while. Is there a pattern you always loved and could inspire you to make for yourself and home?

• United States
18 Jul 12
I thank every one for your encouragement...I went yesterday to Joanne's craft store and bought fabric to make placemats for Halloweena nd Thanks giving... I decided to make one side Halloween adn the other side T=day that way I have both, but don't have the extra expense of buying double the batting and fabric and storing them all year... only one set to store! I cut the pieces out today...don't think I'll get to sewing them until thursday as I have installers comeing tomorrow, but ...I am hopeful! Thanks for all the encouragement everyone!!!


• Canada
15 Jul 12
I don't craft, but I do write. When I get out of the mood with my writing, I think about the money I will make, and then I continue on. It could be something big like a book I'm woring on, or something small like what I'm doing right here on MyLot. Bottom line is it all earns me something.

• United States
15 Jul 12
I would love for my crafts to earn an income but I have tried so many times, so hard to sell and nothing ever sells. I had an online store for scrapbook stuff and sold only enough that paid for the site! I just made 6 lap quilts...and tried to sell them at my yard sale for really cheap, even tho they were really gorgous..no one even looked at them! Good for you on your writing tho!


• United States
15 Jul 12
Thanks, yeah I have magazines and I used to sit for hours looking at quilt designs on the PC but that dont' even interest me! Maybe it is just the hot summer. Hopefully I'll get over it!

• United States
15 Jul 12
I think sometimes you have to inspire yourself. Maybe if you have a friend that does it or if you join a group online it may help. I cross stitch and did not find this craft til later in life. I had done needlepoint where the design was already on the canvas. But counted cross stitch I did not start doing til in my 50's. Now I had gotten the pattern bug LOL I have quite a collection so right now I am working on 3 different pieces. The only thing I did wrong was choose a smaller aida cloth size. Now I wish I had done it a little larger. But they are coming along nicer and once they are finished I learned my lesson LOL But for now my cross stitch is sitting in a corner because I am working on an baby afghan it will be oversized so my daughter will be able to use it long term. I get out of the mood of knitting because I have had to make 4 in the last two years, and now she is expecting again. The one I am making now is going to turn out gorgeous. But It is in squares so I am on the fourth color lavender, and after I finish these 12 I have to start putting it together. I am looking forward to my break finally from knitting so I can get back to cross stitching! Hopefully another two weeks and it should be finished. But I know what you mean when you have a hard time getting back to it. I know i am getting tired of knitting and want to sit it aside for a few months! I belong to two cross stitch groups on facebook so that keeps me interested. As far as the knitting, my daughter getting pregnant again for the 3rd time in 3 years is keeping well off the streets and out of trouble knitting baby afghans for her LOL Good Luck hon!

• United States
15 Jul 12
You make me reminicent of my younger days! I did so many things like that.. and never lost interest or got tired of them or lost interest! I guess it is just old age! I don't know. All spring I kept planning on making halloween and christmas quilts and wall hangings..and now I have the time.. and don't want to do it! No inspiration! I used to sit for hours and look at pictures nad patterns of quilts for ideas. NOw.... can't make myself do that! I used to embroidery, crewel, needlepoint, crochet.. you name it I did it! Maybe if I keep chatting with you guys, it'll hit me in the face and I'll get going on it! Sounds like you have alot going and it sounds gorgous! Good luck to you on everything!

• United States
15 Jul 12

Oh! Crafting! All this means is your muse has left you. She'll be back. In the meantime Do Not Push yourself to do anything you are not up for. That is how you get blocked. Just do what you feel.With me when I my music muse leaves , my artwork muse comes to visit!so just go with the flow.

• United States
15 Jul 12
Wish she'd come back soon then. I am bored...but just can't use that bordum to make me go back to crafting!

• United States
15 Jul 12
what else do you like to do? Is there a project you have been putting off? Now you can do it!

• United States
15 Jul 12
OH I have plenty I can do...I just can't make myself do it!


• United States
15 Jul 12
I just started quilting myself and am trying to figure out my sewing machine so I can sew my pieces of fabric together. I love quilting and am looking for more fabric so I can make my niece her Hello Kitty blanket. I am hoping to finish my quilt by the end of the week.

• United States
15 Jul 12
I have been into the crafting for a while and had taken breaks as well. I am still in school, but I do make the time to do my crafting. I am also starting on my Christmas items so I can try to sell them online and and also make Christmas gifts. If you have any suggestions where I can get Hello Kitty Fabric please let me know. I have a calendar where I write things down on what I need to do and when I want to get it done by. I listen to Christmas music to inspire me.

• United States
15 Jul 12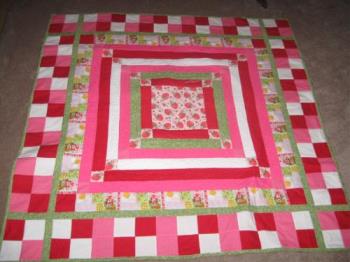 OH yeah...I remember you asking me about quilting. How's that going? Hello Kitty fabric... a speciality fabric like that can be hard to find. Check Joanne's craft/fabric store.... online if not one near you. I was looking for a orca whale fabric and never was able to find anything..until I found some yardage of it at a thrift store! I was looking for strawberry shortcake while back and didn't find anything that said "Take me, I'm what you are looking for!" and then found the perfect pattern at a yard sale! Do a search for it.. and speciality stores will pop up..it will be expensive...probably about $10 a yard...that is what I have been seeing on cartoon theme fabrics and when I was looking for the whale theme. But see what is there and then think on it. You could get a center panel that is all kitty and then incorporate matching solids and then get one other pattern with smaller prints of the kitty and use that as sashings. Kind of like what I did with this SS one.. I couldn't find any other patterns I liked, so this is what I ended up with. No, not screaming Strawberry Shortcake, but best I could do with what I had! I did sashings, but you could do blocks...5-6 inch squares sewn together to make half square triangles or something. Keep me in the loop in the progress. Would love to see it when it is done! Good luck