Vladimir Demikhov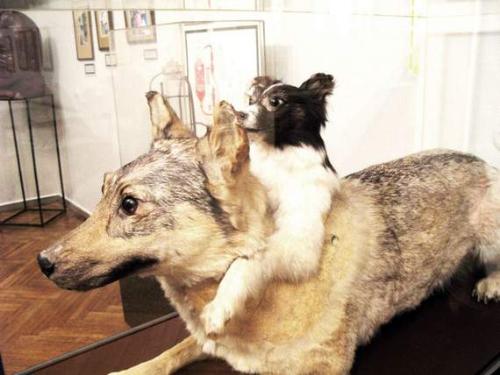 Calgary, Alberta
July 15, 2012 6:53pm CST
Decades ago, around 1960's ,scientist/surgeon Vladimir Demikhov became a pioneer of organ transplant, we can say we owe him a lot because of him humans can have replace their damaged organs with a healthy organ from a deceased donor. This is kinda scary, One of the experiments he did is to make a 2 headed dog via surgery. For sure this sounds like animal cruelty and yes I felt awful for those dogs. he did this brutal experiment to proof the feasibility of organ transplant. Basically, he decapitated a puppy's upper torso and surgically attached it as a parasite to an adult dog, forming a 2 headed dog. footages of the poor dogs: http://www.youtube.com/watch?v=OfQh2V3M6rk http://www.youtube.com/watch?v=ZY_8asXykOE
3 responses

• United States
16 Jul 12
This makes me kind of sick. It seems like a cruel joke of an experiment, and I really don't think it had anything to do with later success in organ transplanting. Organ transplantation has been a science much longer, the first successful organ transplant of a kidney happened in 1954. Are you sure this guy had anything to do with success in organ transplantation? Or that he worked in the 1960s? (the footage looks much older than 1960s.)

• Calgary, Alberta
16 Jul 12
I think he did this experiment for Russia, I guess The Soviet government wants to have their own organ transplant technology but they dont want their doctors to learn it from then rival countries.

• Romania
16 Jul 12
Science! This is only a short story of what happens behind the doors of the science laboratories. For me this experiment sounds stupid. I understand they have to test transplanting organs but who ever imagined it will be useful to attach half of a body to a healthy body? I can understand if they transplanted a single organ, but why an animal with consciousness?

I am sure there were dozens of other puppies sacrified in the same way. Unfortunately, what we see now is only the successful part of the experiment.


• Calgary, Alberta
16 Jul 12
I think this is the first thing they did before they transplanted actual organs. so yeah this cruel thing is the first phase of the experiment.I think they wanted a host dog and parasite puppy to survive the longest before going through organ transplants.


• Calgary, Alberta
16 Jul 12
This experiment actually happened 20 more times, he also tried swapping the heads of 2 monkeys. Though yeah its cruelty, It has now benefited humans, amputees can now get legs or arms from donors. I think dogs are not used for experiments anymore,Its illegal in Russia now, Rats, Guinea pigs and rabbits are the only ones used for medical testing.