Will Michael Phelps dominate the pools again at London?

India
July 16, 2012 10:12am CST
Michael Phelps lit up Beijing with phenomenal display of 8 gold medals in the pool. Already he has won 16 Olympic medals in two Olympics which is just two short of the 18 medals won by Larisa Latynina who won it over three Olympics. Will Phelps dominate the pools again and beat Larisa's record? Or has the competition finally caught up with the 27 year old American? What are your views on Phelps at London? Cheers! Ram
5 responses

• Indonesia
19 Jul 12
It is good to talk about it.. i think Phelps has a big chance to beat Larisa's record, you can see from the amount of gold medals that Phelps has. he has 16 gold medals only in two olympics, and Larisa need three olympics to get 18 gold medals. it is too difficult for phelps i think to get 3 or more medals in London. He is still young, he still has the power, and stamina... i think he will be one of the best athlete in london..

• United States
16 Jul 12
maybe. His teammate Ryan Lochte will take a race or two. He is Just as good as Michael. this shoud be fun to watch.

• India
16 Jul 12
Phelps has pushed all limits and raised all bars in the world of swimming. His exceptional performance in Beijing Olympics left everyone stunned. He was a big reason for last Olympics' success and no doubt he will remain in light all over again in London. But yes this time around,yet another pool king Ryan Lochte who was shadowed by Phelps phenomenal performance last time is all set to shock most of us. He, in these four years, has challenged Phelps quite a few times in the events and was also able to defeat him in some. With Phelps getting nearer to Larisa in medals tally and Ryan getting closer to Phelps' timings, we are all promised for a wonder display at London. HOLD YOUR BREATH.

• India
16 Jul 12
I too believe that Phelps might create a splash this time at London Olympics. But with a pool of talented swimmers coming from Japan, China, America and South Africa, he is surely gonna get a very tough challenge in the swimming events. he has been beaten quite a several times in the recent world championships. So if he is chasing a dream of moving past the record 18 gold medals, then he has to up his ante and work very hard for it.

• Malaysia
16 Jul 12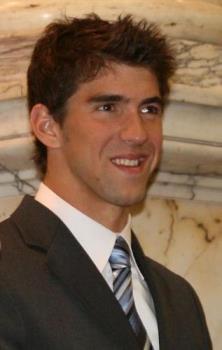 I like Michael Phelps. I think he would beat Larisa's record of 18 medals but he would not win all the seven events he swims in. At 27, it is a bit old for a swimmer but Michael Phelps showed in the 2012 United States Olympic Trials that he is still a match for anyone by wining 4 events in the 8 he entered. One of them was the 200 meter freestyle which he said he will not swim in London.