acai berry and green tea.. diet?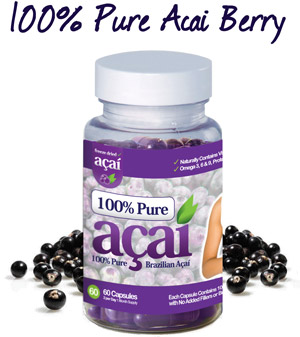 July 17, 2012 5:24am CST
I have read a lot over the last few days that acai berrys and green tea can help with weight loss. I am by no means stating that if you want to be slim you eat a load of berry extract and drink some green.. but apparently they have different properties that can help with weight loss, when you are actively trying to loose weight. Apparently the acai berry extract boosts your metabolic rate, and keeps your appetite at bay to avoid over eating, but even when not related to eating or weight, the acai berry has properties to increase energy levels and is full of anti-oxidants which we all know our body loves! A winner by anyones standards. The green tea apparently flushes away toxins, giving our body a helping hand at flushing anyway any extras our body might be storing that we don't need. I have read a few things about how they don't work, and a few about how they do.. but basically I am on the fence as I don't know anyone personally that has tried either or both these things to loose weight, or at least help with it – so I might just give it a try. I suppose it can't do me harm even if it does me no good lol! What do you think of this?
4 responses

• Australia
17 Jul 12
Well I drink green tea as it also boosts your metabolist so you can excersise longer and burn more calories. I think it can work but you have to work at it too. You can't just expect to drink it and not excersise and it will work. But by all means even if you don't lose weiht keep drinking for it's other benefits at least


•
19 Jul 12
Oh no I will exercise :) I'm actually buying an exercise bike. I don't really like going to the gym, because my partner is fairly thin and I would end up going on my own, so I thought if I turn my spare bedroom into like a little gym, I can work out and watch tv and then won't feel as horrible about having to work out :)

• Australia
19 Jul 12
Yeah that's the best and cheapest way to do it. Gyms these days cost a fortune. A bike will be good and it's better as you watch TV so you're a little distracted. You will lose it with all that extra excersise


•
19 Jul 12
I'm really excited now! I can't wait to get the bike :)

• United States
17 Jul 12
I think Acai berries are considered a "superfood", meaning it's chocked full with all sorts of anti-oxidants, vitamins, and minerals that your body can see a million and one different benefits from eating. I'm not sure about green tea, but I've heard it's anti-inflammatory so it can help with lots of health problems as well, though I'm not sure about weight. I drink green tea every morning because it wakes me up and it's anti-inflammatory which helps with acne (cause it's inflammation on the face). I've tried Acai berries and they're pretty tasty, but they're out of season and expensive most of the time to get at my local grocery stores. Thankfully, there are bunches of other superfoods that are easier to get.


•
19 Jul 12
Oh wow!! you have just given me another reason to drink green tea! I haven't got acne as such but I have a mixture of oily skin, and ezcema so I tend to get clogged pores and little breakouts, so now that you gave me that valuable information I will take the green tea for that alone!! Thanks!!

• United States
19 Jul 12
Well I don't think green tea can do much about the clogged pores side of acne, but as an anti-inflammatory it can help with the redness and inflammation part of acne. I don't know the mechanics of eczema, but if it's redness and inflammation too then I bet green tea can help. I hope you like drinking green tea and that it helps with your problem.

• Canada
23 Jul 12
There are acai berries and then there are Acai Berries! Beware as a lot of the "extracts" are not genuine and don't provide the full benefits. But you are right, this fruit is very beneficial as you pointed out in your list of facts (provided you get it from a reputable source).

•
1 Aug 12
I was going to buy them from the Health food tore holland and barrett.. now I am concerned I won't have the right ones..