How Long Have You Suffered This Condition (Love for Alyson Hannigan)?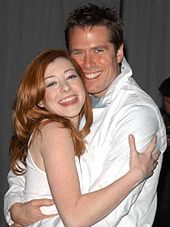 Oklahoma City, Oklahoma
July 23, 2012 5:22pm CST
I use Lord Jesus Christ's definition of 'suffer' (as in "suffer the children to come unto me"). As 'to know of Alyson is to Love her,' how long have you known of Alyson Hannigan? (I'm using Mrs. Denisof's maiden name, because a) that's how we all know of her and b) they say she's had two kids with the guy and everything, but that's just like they say 'Barack Obama's a natural-born U.S. citizen'

although 'pictures' make it harder to think it's a lie

) I first 'met' her in 1997 when she played Willow Rosenberg on
Buffy the Vampire Slayer
and then on
Angel
(I might've 'seen' her on
Touched by an Angel
or
Roseanne
, and there were numerous other shows & movies she appeared in before that (searching took me to search.mylot.com/search.aspx?t=web&k=Alyson+Hannigan?ref=mythociate with a link to her IMDb page); but I wasn't 'aware of her' until
Buffy
.) So about 15 years! A little less than half my life! Lord Have Mercy on Me!
1 response

• Grenada
23 Jul 12
used to watch touched by an angel and i've seen a bit of switched but it doesnt seem like i know her..hmmm...

• Oklahoma City, Oklahoma
5 Aug 12
Maybe at that time she was still in the 'truly thespian'-phase of her career---where the actor's goal is 'to play the parts' rather than 'to be recognized and remembered by their real name.'