She loves her new playpen!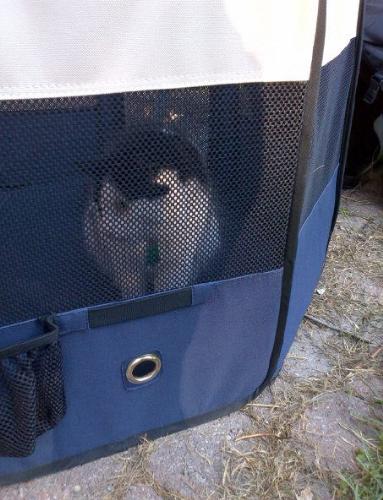 Canada
July 28, 2012 8:55pm CST
I let it air out as I bought it off a Mom Swap & Buy group. I thought it zipped both bottom and top, but the bottom is velco. I have to watch she doesnt unstick it and climb out. I put it up by the table outside, and she just lied down and cleaning herself. My parents moved the other one I had got the little cage pen where they were outside by the road and she was flipping out which Im assuming it was the traffic going by. But she didnt mind this new one, andhaving the screen so she can look out, and see everyone. Its easy to fold up, and can also be put up inside which I like or even on a balcony if I happen to get an appartment with no yard. It also could hold a few more cats, which I thought it was too small when I got it but its perfect size.
4 responses


• United States
29 Jul 12
Well at least your keeping her safe , traffic is not a cat best friend . My cats never had to be put in a cage but that is because of were i live , Its good you keeping her safe . My cats have problem with dogs though .

• United States
29 Jul 12
it has been forever since I've owned cats that went outside... We usually just let them out and roam and they were fine, came back and were fine... Of course I understand the reason for just letting them have "play areas". I think if I had a cat now, it'd depend on where I lived as to if I let them outside. Cute picture by the way!