I can't even get out to buy something

Philippines
August 7, 2012 9:35am CST
There's some flood in front of the house. I would need to buy some throat lozenges. So I would just try to buy in the morning. I am just hoping that tomorrow that the flood has subsided already. But thankfully my cough is not as bad as the recent days. I can still wait till tomorrow.
6 responses

• Philippines
8 Aug 12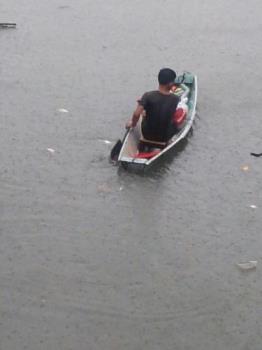 Well you should be thankful because all you have is some flood while some places in the Metro Manila are underwater actually. Thank God it is not like that in our place. It was flooding here yesterday but only along the road. I really thank God it did not reached our house. Almost all establishments could not operate yesterday because the flood has kept the people from going out. Unless you ride a boat you can't really manage to get out when flooded. Too bad for those living in areas of Marikina and Quezon City and others. Many have lost not just their houses but even their lives. The rain keeps pouring and all I could do is pray that it stops. I pity those who are still up there in their roof waiting to be evacuated or saved by whatever means possible. God please save them!


• United States
8 Aug 12
Hot tea, maybe with a bit of honey, will help make you feel better even if you cannot get out to buy more throat lozenges right away. Hopefully, the flooding will subside there soon.

• Philippines
7 Aug 12
I heard in the news that there are places that are really flooded just like during the time of "Ondoy". I'm still thankful that in Cavite there is no flood as such. Only strong rainfalls.

• United States
7 Aug 12
I hope the flood waters will not get inside your house. It sucks to be sick at times like this, but then what else can we expect on rainy seasons? Thank God my brother's cough is almost gone. Poor kid has been coughing and sniveling. Good thing they still don't have school tomorrow; he can use the extra rest day.

• Philippines
7 Aug 12
so you are staying in manila as your profile says. well from the news i heard, the rain will still continue up to thursday. we are so lucky our town is not flooded as most of the urban areas of the philippines. i really wish the rain stops sooner.