mylot.com new homepage layout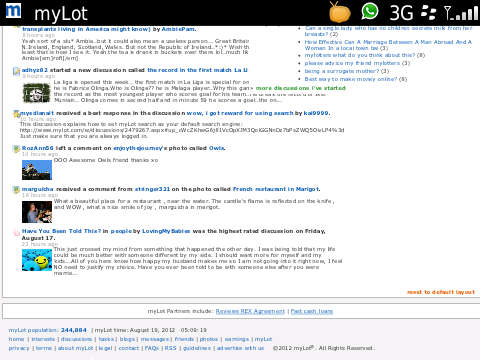 August 19, 2012 5:12am CST
Dunno if this has happened for a while, all I can say is I just noticed it today and there's a little link at the bottom of the page saying or rather asking to reset to the old default layout. Anways do you like this new layout? Or you prefer the old one?
4 responses


• Cambridge, England
19 Aug 12
It doesn't appear any different to me (but then I rarely visit the Home page). The link to reset to the 'default layout' has always been there and means that, if you have customized your home page (as described in the FAQs), you can reset it to the default layout.

•
19 Aug 12
Really? That doesn't look different to you? Well I think its because you don't go there often, so you can't remember how last it looked like.

• Holiday, Florida
19 Aug 12

shiroinooto!! that is so cool. dont know how you did that. i do remember when it looked like that. cant recall when it changed.

i see what you mean now lamb. didnt even know i had this same friend


•
20 Aug 12
@Forever_The_Lamb
damn I laughed so hard I fell off my chair now I broke my hand and my head is banging.
@bunnybon7
its a website that shows how websites looks in the past.


•
19 Aug 12
I have noticed this for too many times in the last hour or so. I was being directed to another layout of the site. After responding a discussion when I was submitting it I was being redirected to a new layout page that was preventing me from adding tags. I am still experiencing this.

•
20 Aug 12
Errm, your own case is kinda different but I guess it fits. Now which page exactly prevented you from adding tags?

• India
19 Aug 12
Okay, so you're talking about the layout on a cell phone (you're seems to be a BB, haha). Don't know about that, as I've never tried myLot on a phone. I think it kind of looks good (don't know how the old one looked like though). Good day!

•
19 Aug 12
Do try it on a phone sometime, more flexible as you can mylot on a train, in a bus, a cafe, anywhere, and you save more on internet.llloooolll