Dealing with the TERRIBLE TWO'S phase?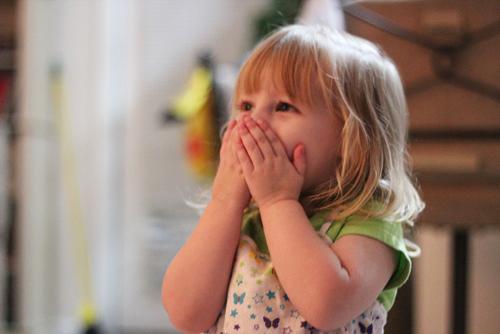 United States
August 24, 2012 6:34pm CST
My daughter is going to turn two in about two weeks. She was always a REALLY good child, used "please" and "thank you", if she couldn't have something she would just go find something else to play with. Now she's hitting the classic terrible twos phase; This is my first child but I honestly think it may be a little worse than it's supposed to be. If she's in a new environment, she is an absolute TERROR and only gets into things she can't have. She doesn't whine, she SCREAMS. CONSTANTLY until I either break and give her what she wants or I just take her home. I know I shouldn't just give her what she wants, but sometimes if I'm out I can't just let her scream. What's the best way to get through this phase and have her come out of it as well behaved as she used to be? My litter brother is about 5, and his terrible twos phase was dealt with TOTALLY wrong. He's a little terror now, I dont want my daughter to end up a hyperactive heathen. So any advice would be amazing....
4 responses

• Philippines
25 Aug 12
My son is already six years old now. I can remember him throwing tantrums constantly when he turned two. This went on for a couple of months until he realized that he won't really be getting anything even if he cries as loudly as he can. He's 2 favorite words when he turn 2 are "NO" and "Don't". This is probably because these were the most common words we tell him so he gets back at us. It was funny to look back to those days now.

• Canada
25 Aug 12
It would be easy for people to scold you and say: "you should not give in to her, that doesn't teach her anything" but in reality when you're put into that kind of situation this is easier said than done! My nephew was a bit like this when he was 2, he wouldn't scream at the top of his lungs but he would start stomping the floor or collapse to the floor. My sister would always talk to him about it after the temper was over, there is no use trying to reason with them mid-temper because it usually gets them even more worked up. Good luck and remember the phase will pass..

•
25 Aug 12
I have 3 kids, I can't really give much advice as I don't know your child, but I'll share my experiences and maybe you can find some useful information in this. My first daughter was an absolute nightmare from around 16 months. She would kick, bite, scream, throw herself on the floor, bang her head against the wall... the best thing I could do was ignore her, or if she was at risk of hurting herself I would pick her up and restrain her, though it often meant I had a lot of bruises at the end of it. I still can't believe how much strength she seemed to have, it could be difficult to hold her. It was very worrying at the time as I was pregnant with her brother and she would be very violent in her struggles. She was my worst child for tantrums. My son seemed to pass by the terrible two's completely, he was a total angel. My youngest daughter is almost 2 now. If you see the early signs of a meltdown, you can use distraction techniques, like giving her a snack or showing her something new and fun. But often you don't see them, and then I just let her throw herself on the floor and cry, and don't react to it, which usually works, she will calm down when she doesn't get any reaction. Or if I am in a humourous mood, I throw myself on the floor and imitate her, which makes her laugh and ends the tantrum. Hope this helps!

• Philippines
24 Aug 12
Hmmm.. I was wondering about this since my nephew never went through the terrible twos. Well, he did try but I guess the parents and the relatives were just not listening to his qualms when he starts screaming for it. As my cousin would always tell me, be the parent not the slave. Parents know better and kids should learn that the parents are the authority - not them. It worked with her child and has worked with our nephew, so I guess you just need to be firm and not tolerate. Not tolerating is different from ignoring the child while she screams her head off. I think it pays to have two parents by your side, one that really practices "authority" because the child knows never to make mommy or daddy angry or either one of them. So be firm. Punish if you must. But take hold of the importance of discipline early on. Else, he/she would be your masters instead of the other way around. Have a great mylot experience ahead!