My Daughter's First Great Performance (Cosplay Event)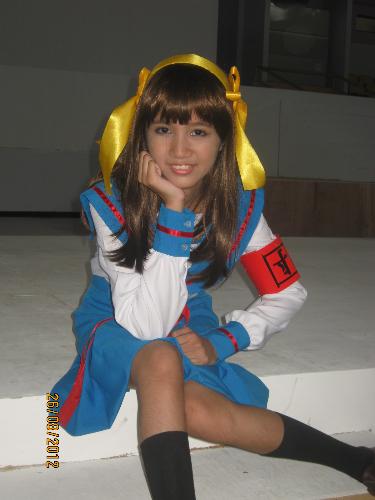 Legaspi, Philippines
August 26, 2012 8:34pm CST
My daughter and I went to the assembly station at 1:00 pm. There were several cos players who were already in the area. This was my our first time to join an event like this so we are so excited when one after another we were able to see the characters we can only see in TV live. My daughter is cos playing Haruhi Suzumiya, a character from the TV series of the same title. After several minutes she was already called for a photo shoot and she joined the group while they proceed to the mall for some promotional activities. Several people asked to take pictures from her and she was very happy about this. The main competition event started at 7:00 in the evening. Ordinarily, she will be complaining already of being tired and hungry. But this time, I can see that she never seems to get tired. I know she was so happy in joining this kind of event. I've seen her performed very well on stage portraying almost perfectly the character she had chosen. As a mother, I am very proud of my daughter.
4 responses

• India
27 Aug 12
Hi friend, good to hear about this, it shows that your daughter is really very smart, convey my regards to her, encourage her in various ways, it will help her to learn a lot of things. All the best

• Legaspi, Philippines
28 Aug 12
I want my daughter to enjoy life so I am supporting her on whatever field that she may want to take. I want her to have the self confidence which is lacking on my part probably because of some factors way beyond my childhood days. Thank you friend for the wonderful remark.

• Philippines
27 Aug 12
You are really a supportive and loving mother. I am really amaze to those cosplayers everytime I saw them in mall especially when thy really copied a certain anime. Their dedication, passion and determination in cosplaying is really great and amazing.

• Legaspi, Philippines
27 Aug 12
Hi ardoy! As a mother we would want only the best for our children. Since she wants to experience this particular field, I would like to support her all through the way. Thank you for sharing!


• Legaspi, Philippines
27 Aug 12
Ha ha! Thank you very much roberten! I actually told her that I will just resigned from my work to become her PA (personal assistant) and we were both laughing. Well, I just let her join this event because I know that she really like it. Besides, she is doing her best in school so some kind of reward for being a good daughter. She already received so many invitations for other cos play events that would be happening in the next days to come. I don't know if I could attend to those things right now since I am still under training. This event made her gained more confidence of herself and I am happy for her achievements.

• United States
28 Aug 12
Hi ARIES1973, I am glad to hear that you support your daughter in her hobby for cosplaying. I applaud you for being such a supportive mother. As a fan of anime, I can relate to cosplay events. While I do not usually cosplay myself, I enjoy taking pictures of cosplayers. I love seeing how dedicated people are with creating their costumes and posing to fit the persona of their cosplay character. Sometimes, I have seen events were all members of the family cosplays, but that does not happen too often. Cosplay is like a performance and art form at the same time. My friends cosplay all the time and I think it's a great hobby.

• Legaspi, Philippines
28 Aug 12
Hi otanetix! Thank you for that wonderful remarks! That was her first time to join such kind of event and I know that she is enjoying it. I'm also glad that you are also having fun with it. Have a nice day and enjoy your stay with myLot.