By smelling his pillows help me to sleep well...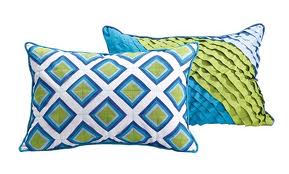 Philippines
August 29, 2012 11:55am CST
I always sleep alone here in our home for almost 3 years because my husband is woking under a graveyard shift so we do not sleep together every night from Monday to Friday but by smelling and embracing his pillows it makes me feel comfortable and sleep well everynight. How about you my fellow friends do you smell or embrace your husband/partner pillow if she/he not around? Thank you for sharing!
8 responses

• Philippines
29 Aug 12
I am the one away so I can't embrace any of his pillows. But when I'm with him I feel comfortable sleeping with him even there are still some noise in my surroundings. Here in my boarding house, I can't sleep until the whole house is silent. Embracing him, feeling his warmth and smelling his scent make me sleep well. Happy mylotting.

• Philippines
29 Aug 12
Hi angelkarah050182, I agree with you when we are with our special someone we can sleep well because we always feel safe and comfortable. Thank you for sharing!

• India
30 Aug 12
Whenever my wife goes to meet her mother and stays at night,i used to connect with her by talking on phone untill i sleep and she disconnects the phone.and whenever i awake in midnight too i used to give her a ring(only once).but slowly i m working on this as sometimes she feels disturbed....i always want to be with her. .

• Philippines
30 Aug 12
Oh, your very sweet! My husband also always calling me every midnight but i understand that his working and need to be focus on his work but when i miss him i just text him and he reply as soon as possible. Like you I also want to be with him too. Thank you for sharing!

• Legaspi, Philippines
30 Aug 12
You have just given me an idea. I am the one working away from home. Perhaps I could bring his pillows with me he he. Actually I am on my temporary assignment and perhaps this will end soon. I'll just have to be patient until the training ends and I can go back to my home. As of now it is really a very lonely thing to be separated from my family.

• Philippines
30 Aug 12
I know how you feel, when I am working and away from my husband I really felt lonely too but we need to accept it, sooner you will able to be with your family again. Take care.

• United States
30 Aug 12
Now how sweet is that...I told you that hubby of yours is some catch...that's why he is so loved...thats a very cute way you have adjusted to him not being there at night...As long as it works for you,,,More power to you...does he know who you get to sleep at night when he is not there???

• Philippines
30 Aug 12
Hello bjc66bjc, yeah it really works for me and his pillow really smells good, also actually he does not know that his pillows makes me sleep well every night, its a secret...





• Philippines
29 Aug 12
Hi jillhill, i can senses that you linens has a very good scents and I agree that the smell of the kids are amazing. Have a nice day!

• Philippines
29 Aug 12
How sweet of you

Well, it's been a long time since I've separated with my ex. And my youngest sleep with me


• Philippines
29 Aug 12
Hi jaiho, how old is your youngest child? Good to know that she/he still sleeping with you and had someone to embrace every night.

• Philippines
14 Mar 13
I always do that. I can't sleep alone but we cannot avoid that. It's something within our comfort zones. Which makes us comfortable and happy everyday. Yes, misunderstanding happens but at the end of the day, our partners are the only ones we have, right? thanks

• Philippines
13 Mar 13
yes that is true because when i still have a lived in partner and when he was out or even when eh will go to his province and he will be gone for almost a month,i will use to smell his clothes that had perfume because i smell him too and then also help me to sleep well.