No Easy Day For Anyone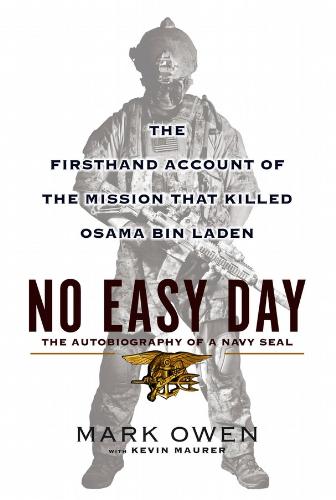 China
September 5, 2012 10:11am CST
I could not believe what I am hearing and seeing with regards to the recent controversial book about the assassination account of the notorious Osama Bin Laden. On one side, the Pentagon is saying that the book is compromising military and intelligence secrets while on the other side, the publisher are denying it. Much more shocking, the books are already on sale. I have to say that one of the most asked question in everyone's mind now would probably be - what is taking the authorities so long to review and decide if the book is a security threat. I think if the book is going to jeopardize the work and personnels in the defense for the country, then the country should not hesitate taking the book off the shelf and reprimand the relevant parties responsible. The publication itself to me is equivalent to treason and should never be allowed. All it takes is the enemies to get a hold of the book, add the logical facts and the whole painfully setup network will be destroyed. This is America, right? Is it so difficult to know and decide what to do with the book and the author?
3 responses

• United States
5 Sep 12
What's the book called? Have you read it? I would have thought that if something was going to compromise military secrets that the government would have knocked it out before it was even published...they usually catch these things first. This sounds more like speculation. Besides I think the real reason why it hasn't just been taken off the shelves is because they could be violating the author's rights if they're wrong about this very serious accusation. Maybe they're running background checks on everyone involved to see if there's any incriminating evidence. I don't know how long this has been going on, but background checks are thorough and take a long time to do just for one person. But that's what I think might be taking them so long.

• China
5 Sep 12
I don't think removing the book when it is compromising foreign defense intelligence to be any violation as such disclosure is very costly because we are talking about human lives. I have read enough atrocities of these terrorists to know the seriousness and the violent effects that will fall on those who work with America, when they are captured. Also, I read that the author being a member of the elite special forces is actually obligated by a contract with the military that he is not permitted to disclose secrets involving his works. So, I believe he has violated the agreement with the army first. As for the movie, I think it is just another war action movie and having watched it, I don't find anything compromising the established works of any army or military intelligence in the movie.

• United States
5 Sep 12
I don't believe it. Saying that it's possible treason is a smoke screen for something else. If it actually were treason, the book would have been stopped immediately. It's far more likely that this administration would like to have it censored (but it's too late; it's already for sale) but haven't been able to find a good ground for censoring it. I haven't read it, but I've read reviews of it and have found nothing so far that would indicate that it was a threat to national security.

• China
8 Sep 12
I believe the Pentagon has already confirmed that the book has disclosed classified information and the author of the book has not followed protocol. Yet, it is interesting that the relevant authorities has not removed the books from the shelves. Is this errant author's rights more important than those who are working tirelessly behind enemy lines and their families who are in imminent danger of total annihilation or inhuman torture. What is human rights when there's no human around to exercise it?


• China
8 Sep 12
This is not some movie or fiction but a book written by a former elite soldier which is now confirmed by the Pentagon is revealing classified information. I am sure you will know the devastating effects it brings to the networks which involves people who are working behind enemy lines and their family members who can be in danger as well. I have to admit that this is one area in which I do not fancy and admire about westerner's freedom of speech, here.