Frontoza fish!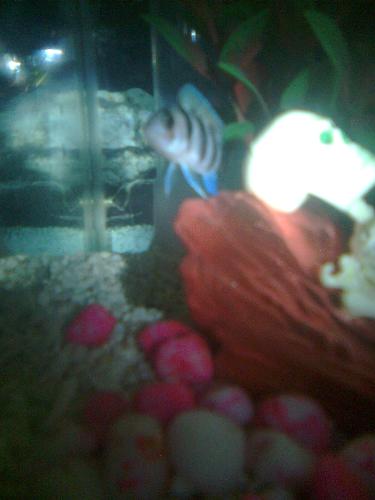 Philippines
September 7, 2012 3:29am CST
Fishes and other aquatic animals is one of my favorite pets. I have few here in my house different aquatic animals including my albino frog, my turtles, and fishes. My newly fish is my frontoza fish I bought last week, I bought it in 180 php it is 2-3 cm, this is the cheapest because it is still tiny, but if it's more than 3 inch you can buy it in the mall cost 700+ php. I bought it not because it is the cheapest but because I want my pet to grow that I am the one who is taking care of them. :) guys did you already heared this kind of fish? What can you say about my new fish in fish tank? If you have experiences on fishes can you share? For me to widen my knowledge about fishes. Do you have any aquaitic pets? Good day! HAPPY mylotting! :)
2 responses

• Philippines
7 Sep 12
It's been a long time since I stopped caring for fishes. I love aquatic pets and long time ago we have a big fish tank. Bit when we moved here to our new house we left those fishes to our old house with the new owner who also loves fishes. I wish to have one again, even just a small aquarium..maybe soon :)

• Philippines
7 Sep 12
I also like to buy big tank but our house here isn't that big so I bought only medium size, I really want to care big fishes like arowana and high fin hammerhead :), by the what kind of fish in your late big tank. Happy mylotting! :D

• Philippines
7 Sep 12
It's a big tank because it's divided into two. Fighting fish on the other side and gold fishes on the other side. I remember we have hammer head sharks, scorpion fish ,angel fish and I can't remember the others.

• Philippines
7 Sep 12
wow! you also have lot of fishes, you know fighting fish is also my favorite fish especially if it is pure white color, I have one here but it has a blue spot in its tail. I also have 3 tank so I can put different fishes. I want aquarium that you have, did you bought it in a pet shop, or your customized in glassware shop? :)


• Quezon City, Philippines
7 Sep 12
I used to have two big aquariums in my house when I was in college. So far I was able to rear AngelFish, goldfish, and assorted of those fancy guppies before. I think my favorite is the Goldfish which I was able to breed and was able to grow some. But I lose that hobby when I started working.

• Philippines
7 Sep 12
Wow! I don't know to breed fishes, I can't distinguish a male and a female fish. The fish I saw that reproduced is the tiny one (i don't know the name) here we call it million fish but usually it is only food of big fishes.

• Philippines
7 Sep 12
Food for arowana? It can reproduce fast. It is so sad you lose that hobby, but I understand you working is very busy. Have a great day! :)