Chicken Wings Made us Fly!!!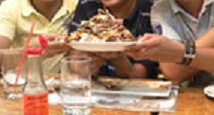 Philippines
September 12, 2012 1:32am CST
My friends and I had this unbelievable food tripping episodes. We heard that there is a restaurant in town offered an eat-all-you can of regular size roasted chicken. After work, we set-off towards Max's Restaurant and without a doubt; each of us ordered the promo. We are four in total, but the only rose decided to be the judge. Actually, she's on a diet. Hence, three of us started to munch the roasted chicken. The manner of breaking the chicken, dunks in a condiments, and rest for a while. Then, roasted chicken for 2nd, 3rd, 4th and the 5th round. Whew! That's really overloaded, but the feelings like your in heaven. Lol. I can't bearly hold the last thigh of the chicken or even to look at the chicken meat (chuckled). The other two friends of mine uttered the same situation. Alas! No one win, all of us had five roasted chicken in our tummy. As we get off from the restaurant, the feeling of lightheadedness and the hurling of what we had consumed. I can't imagine myself doing it again, the high cholesterol level flags up in our system. The feeling of flying in the sky. Lol Have you tried this crazy food trip with friends?
9 responses

• Chile
22 Sep 12
I remember that I used to be able to eat quite a lot when I was young and I did not get fat. But I don´t think I ever had an eating contest with anyone. The all you can eat restaurants came to being where I live when I was in the age where you only go to the most expensive restaurants in town. They are not "all you can eat" and each dissh is very expensive. I only go there invited as I don´t have money to pay for them.


• Indonesia
13 Sep 12
weeeew

5th round is so wowo,,, one thigh is enough for me. You should get rid of your cholesterol sooner for the next food hunting.. the 6th round may be?


• Philippines
12 Sep 12
I have done that many many times when I was younger with friends and family but I won't dare do that now lest i endanger myself ( i have no health issues so far). Yes Max's chicken is one of the best and it's also listed as one of the Philippines oldest restaurants. Max's is my grandfather's brand and we had been going there since I can remember ( the original branch was in Dewey now Roxas boulevard). I know what you mean and I could identify with it

, i would recommend the restaurant especially the chicken to anyone healthy but please eat moderately

http://en.wikipedia.org/wiki/Max's_of_Manila

• Jamaica
12 Sep 12
This sounds to me that you are very young


No, I would have done this. Blessings

• United States
12 Sep 12
I have over eaten a time or two myseld, but never to that extent...I don't even think I have ever thought of having an eating race...thats crazy to me, even tho it was fun for you and you and your friends... The roasted chicken was quite tastie I am sure, but to much of anything has consequences...LOL..

• United States
12 Sep 12
Around here, some places will at some times have almost free chicken wings.. it's always fun to go and eat a bunch, but I've never tried to eat more than my friends! There are restaurants however who will give you your meal free if you can eat it all! And it's very very large.. There's a television program where the host goes around trying to eat all these.. I am waiting to see him put on some serious weight!

• Australia
12 Sep 12
I am not a very big fan of overeating like that, but I do remember there was once when I was in college and I had dinner with one of my college mates after we hung around for the evening in the college computer lab trying to complete some assignments. This friend brought me to a restaurant that gave free "refills" of steamed white rice as long as you ordered a main meat and rice meal from the menu. I thought that was a bargain, so I went for it. Me and my friend ordered a main meal each and we started racking in the food and kept reordering the steamed white rice. Very soon we were having a competition to see who could eat the most plates of steamed white rice!

Unfortunately, I lost the "competition", ordering only 6 plates while my friend ordered 7, but it was still an achievement in itself because my friend was known for his big appetite.

Overall, it was a good experience trying to eat so much, but I don't think I ever did something like that again thereafter!


• India
12 Sep 12
Enjoying your food with friends is good but sponsoring gluttony is not a good habit we should encourage.There are thousands who suffer from lack of food and here we stuff unwanted food to cause us ill health and uncomfortableness.Are we doing a right thing,because food security for majority is becoming unattainable and here we are overeating to bring ill heath.Do you think it is a good option for us?