Believe Me, It Tastes Better Than It Looks!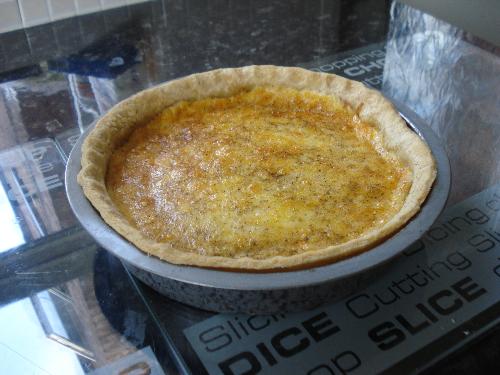 Carlisle, England
September 15, 2012 9:10am CST
I decided not to go to the football after all. I told John that I've gone off football, especially after watching the Olympics. Footballers are prima donnas, even in our league! John's gone though as he wants to catch up with various people, which is fair enough. He can go on about his new task, given to him at work, which is to design Carlisle United's programme every fortnight. I'm sure they will be suitably impressed, especially as this latest edition is "dedicated to the memory of Colin Porter." KP, of course, our friend who died recently. Anyway, whilst he's been out I've made a cheese and egg flan, a recipe Mum gave me some time ago. I've made a few of them in the past but have never taken a photograph (until now) lol.

Can you buy strong cheddar cheese where you are? I know in America it tends to be in squares doesn't it? If you would like the recipe please message me. I even use a CUP OF MILK in this recipe, which is very American-like. Love it! Oh, by the way, we won't be eating it today as Saturday (well, this Saturday) is a chicken butty day. I shall freeze the flan and we'll have it midweek so we're not running out of nosh.

2 responses

• United States
15 Sep 12
I sometimes wish I had time home alone. It does not really happen. I make similar, but choose to leave it out of the crust. I will use milk or cream with eggs and cheese and veggies and sometimes meat. I never thought to freeze it, but that is a good idea. I often will double the recipe then we will have it for late breakfasts for several days. very substantial. Yes, our cheese is usually in blocks,They are square or rectangular. I have seen huge wheels of cheese as well. Hubby likes extra sharp cheddar, and I like it all. Enjoy your baking time. I have a pot of potato soup on the back of the stove and I have granola in the oven. It is a little chilly here, certainly not what was predicted.

• Carlisle, England
15 Sep 12
It's warmed up today. The other day I thought, "Oh dear, Autumn's here!" but it's taking a back seat, for now at least.

Yes, I often make something, cook it, let it cool down and freeze it for a later date. I will defrost the cheese and egg flan during the week and warm it up so we can eat it then. Works a treat and stops John from having to buy more meat or whatever next week. Today I also made a plum crumble (the plums are from the in-laws as they have a plum tree) and I've loads of rhubarb from them in the freezer. I suspect the MIL gives the fruit for John's benefit, not mine but there again I cook to keep John as healthy as possible, something they finally GET after all these years!


• United States
15 Sep 12
The plums we have been getting in the store have been so very good this year. You are lucky to be getting them.

• Carlisle, England
16 Sep 12
The plums on the in-laws' tree were few and far between but the crop comes in stages. One year there will hardly be any plums on it and the next..loads. This year there weren't many but at least they've been used up..well, mine have, in the crumble we've demolished over 2 days!


• United States
16 Sep 12
It sounds like it would be rather good. We can get some great cheese in this area--including a lot of really good cheddar. I think that one of the requirements for living in this area is that one appreciate good food... and, if it's not, it probably should be.

• Carlisle, England
16 Sep 12
Yes, there is a lot of farmland in the area due to the countryside around the outskirts of the city of Carlisle. In fact, the centre of Carlisle is the smallest in the country but in total area it's the biggest!