Connie - a dog saved from dying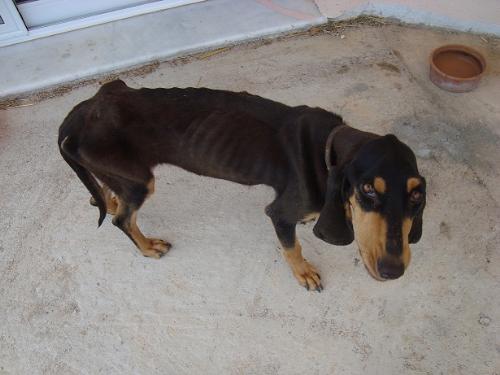 Greece
October 6, 2012 8:39am CST
We saw Connie in a quiet lane not far from where we live. She was emaciated and could hardly stand. My husband put her in the boot of the car and brought her home. She smelled dreadful, when Elsa,our first dog, moved against her she fell over. We separated them and the following day took Connie to the vet. He said she was dying and would only live 3 more days. We agreed to pay the bills and he kept her in for the night as she was dehydrated. She also had tick fever and was anemic. The following day we brought her home. We gave her a kennel and she curled up in the back of it. Day by day she picked up, even staggering to come to us in spite of her weakness. She is a hunting dog, she looks like a cross between a beagle and a bloodhound with short legs and very long ears. Her eyes are golden and pleading. Her fur is now silky and shining, her tail is up and wherever Elsa goes she follows. She is a very affectionate dog and whenever she goes for a romp she always turns back briefly and comes to say thankyou.
5 responses

• Romania
6 Oct 12
I wonder how long had she wandered before your husband found her. I don't think somebody abandoned her like that. She was probably abandoned many days before you adopted her. You can't tell for sure she was a hunting dog but... who knows? In my country hunters do such cruel things. They abandon their hunting dogs if they don't do a satisfactory job. Some hunters shoot the dogs they don't use any more, some other hunters just abandon them dogs in the woods. Maybe that's what happened to your Connie. She was lucky you found her.

• Greece
7 Oct 12
She must have wandered for a long time, when we made enquiries someone told us that he had seen her wandering around the streets but people just ignored her. We found her a long way from habitation. Now she is fit we can see that she is a very strong animal and we know she must have suffered terribly to get in that state. She is definitely a hunting dog, one who follows and bays in pursuit. She has beagle in her and her head and face look like a bloodhound. Her sense of smell is so good that she must have been taken some distance away from her previous home in order to lose her.

• Romania
7 Oct 12
They probably take her away from home by car. Otherwise she would have found her way back home. It is sad that people can walk by a dog in need without trying to help. I suppose there aren't too many cases of abandoned dog like her in your place. Why hadn't anybody helped her before she got in the situation you found her?

• United States
7 Oct 12
Connie is one lucky dog! Glad to know you and your husband found her and saved her! Connie seems to know she was helped by you and your husband! I am so sick of hearing people abuse and adandoning animals! Wether if it cats,dogs,horses or other animals! Animals get abused and adandoned by people who don't care,are not educated properly(in some cases), get overwhelmed,getting angry at the pet, some people think it is funny and other reasons! Nice to know there are people out in this world like you and your husband who help animals!


• United States
6 Oct 12
The dog was truely blessed to have good people like you and your husband to take care of her. Both of you were angels to the dog. There should be more people like you. Best wishes to both of you.


• Greece
7 Oct 12
Beagle too I think. She has the voice of a beagle and it travels a long distance. Her coat is short,close and soft. I've had no dealings with dachshund so I don't know how they are in character. Connie is the sweetest of our pack and the one who is first to make friends with new arrivals. She is also very jealous. Is this a dachshund's nature?

• United States
7 Oct 12
Yes, absolutely. Mine would get into some mighty fights over who got the most attention from me. I had to monitor myself when they were all together with me. Short, soft coat is a trait too. But they could be the lovingest little imps when they wanted something. "When they were good, they were very, very good. And when they were bad, they were horrid." (who said that originally?)

• Canada
8 Oct 12
this story made me cry I am so happy that Connie found a well-deserved home. The poor baby how she must have suffered.