Bika Ambon, the famous cake from Medan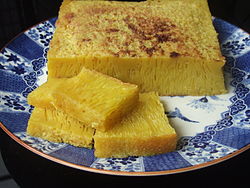 Indonesia
October 8, 2012 10:05am CST
the name of cake is Bika Ambon.. but it didn`t comes from Ambon, Molluscas.. but it comes from Medan, North Sumatera.. The cake made from several ingredients like tapioca, eggs, sugar, coconut milk and sago flour..You can find Bika Ambon in pandan flavour (commonly) but there are also variety too with banana, durian, cheese, chocolate flavor..Yummy... The history why the cake is named Bika Ambon is unsure..but there are rumour that the name is brought from Ambonese seller and comes to Medan.. The cake is widely knows as the speciality cake from Medan and every city In indonesia now Bika Ambon is from Medan So when you visit Medan, don`t forget bring Bika Ambon, the special cake from Medan.. Medan is capital of North Sumatera (so maybe it can helps you know about Medan)
4 responses


• Indonesia
2 Nov 12
In Jogja, there are many seller of Bika Ambon. In tradisional market also sell Bika Ambon. The price is also very affordable. One pieces Bika Ambon only Rp. 1000. If you want taste of Bika Ambon more delicious. You can buy in special store. But the price is more expensive.

• Indonesia
20 Oct 12
yeahh bika ambon its very delicious and yummy, the flavor its sweet and good, you must try it

• Malaysia
8 Oct 12
I need to check my recipes as i remember learning how to make this cake from that Indonesian lady. I have not seen that cake while I was in Medan.Medan is quite near to Malaysia. But from my place in sabah I have to fly to kuala lumpier to take a connecting flight to Medan. It took less Than an hour from Kala to Medan.

• Malaysia
8 Oct 12
I used to have two classmates from Medan. They always told me about Medan - what does the city look like, how they live their lives, and I always remember Lake Toba as they said it is a beautiful lake. But I have never visited Medan. I also had a closed friend from Surabaya so I thought that I would visit there one day. How time flies!