Weekly Office Meetings - Helpful or Waste of Time?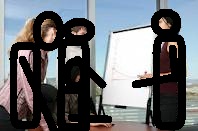 Canada
October 9, 2012 1:50pm CST
In our office, management regularly meet on Fridays. We all have our portfolios. We speak about it and we give updates. If the portfolio that is assigned to you is a long term project, chances are that the updates you have to report are not substantial. Some of us think it is a waste of that and the frequency of the meeting should be once a month. Management heads are however convinced that this meetings keep them updated on issues that each of us might have as well as make everyone aware of what everyone else is doing. I am wondering if you also have regular meetings in your organization and if it is really helpful



5 responses

•
10 Oct 12
I know that there are a lot of people who think that meetings like these are a waste of time, but I am of the opinion that it is a really good thing to be able to keep in touch with the people in the office on a regular basis so that you know what they are all up to, and how things are going to them. It is also a good time for you to be able to take any ideas that you might have to your manager without having to book a separate meeting. You only have to do these once per week so I don't suppose that it takes too much time away from you.

• Legaspi, Philippines
10 Oct 12
Hi muelitz! Having a regular meeting is a great way to keep track of our actions. This is one way of assessing if our actions are contributing for the development of our main objective. Do we need to stick to the agreed actions or do we have to make revisions on the plan? This is also one effective way for the management to know about suggestions, complaints or any other issues that needs to be addressed upon. For me having a regular meeting is an essential thing in every organization.


• United States
9 Oct 12
My boss said she was going to talk to the lady who works with me about cleaning up after herself. she had not done that yet and I know because the other night i was the only one to clean up the shop before I went home.

• India
9 Oct 12
Thanks for sharing this discussion. Well i think if weekly office meetings might be helpful in certain cases where the higher authorities wants to see how the work assignments have progressed when assigned to different employees this helps indirectly in the smooth functioning of the organization. But i think meetings should be done in rotation format where each employee gets a chance to go to the meeting only once in a month. What say?