Extended family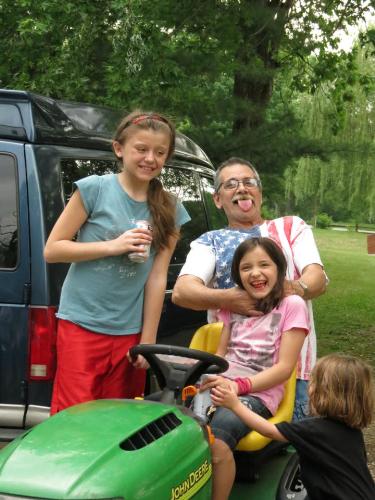 United States
October 11, 2012 12:41am CST
It seems as a grandpa that attends my grandkids pageants I have gotten to be known as GRANDPA to a lot of the kids. This is a photo of a day at a pageant event to decorate the float for a parade. It was break time and we all had a blast. My Savanna is the tiny one with her back to the camera.The girl I am choking is the one that crowned me as 2012 Minnesota Grandpa recently. Her & her brothers took to calling & accepting me as Grandpa Bob awhile back. Now I have more of the girls calling me Grandpa. I love it. Have you gotten an extended family of any type? ~~HAPPY POSTINGS FROM GRANDPA BOB~~
5 responses

• India
11 Oct 12
Thanks for sharing this discussion. Well yes earlier u had mentioned how u were having a gala time at the parade where your grand daughter was taking part. Yes it is so nice to be in the company of an entire family and that is clearly visible from your discussion how great u are feeling about the same. It is indeed an advantage to have an extended family like u. What say?

• United States
11 Oct 12
Thanks. ~~ HAPPY POSTINGS FROM GRANDPA BOB~~

• United States
15 Oct 12
That is wonderful Grandpa. You are very blessed and so is your extended family for knowing you. I have an extended family. My son in law's parents and aunt and uncle have accepted me as part of their families. There is a wonderful woman that is 13 years older than me; she has claimed me as her daughter. She said she feels like I have always been her daughter. I call her mommy.

• United States
11 Oct 12
When my kids were growing up all their friends hung out here...and most of them called me mom....now all these years later....they still do....in fact some introduce me as their other mom! I love it. My littlest granddaughter however doesn't like it when someone calls me grandma....she tells them...that's my grandma!

• United States
11 Oct 12
The roomie has adopted a lot of friends as "sisters" because her brothers are such losers, and has their kids as extra nieces and nephews - good thing because only two of the real ones are being friendly now, and only one she sees often. I flat lied to the hospital last winter that Maggiepie was my sister (half) so that I could authorize things to get done - otherwise they'd be having to call family out of town.

• India
11 Oct 12
Hi friend, good to hear about this extended family activities. Now a days it is really hard to see this kind of families, since people are living with nuclear families and don't have time for this kind of activities