A political primer

Australia
October 12, 2012 12:50am CST
I intend this Interest to iclude all things Aussie, and that means politics among many others. I gather that many of the non-Australians in Mylot don't know a lot about us, so here we go, a thumbnail sketch. Our system is based on Britain's. The Australian electoral system has evolved over the last 150 years of democratic government, with the Australian Parliament established by 1901. The present day federal parliament has a number of distinctive features including compulsory voting, with full-preference instant-runoff voting in single-member seats to elect the lower house, the Australian House of Representatives. The senate is a multi-member proportional voting system where 6 senators in each state face election each time it comes round (there is an exception to this, of more later). This means that each candidate, to get elected, must gain one seventh of the primary votes (a quota) on the first count; any additional votes for such a candidate are then passed down to the next preferred candidate on the ballot paper until five candidates have gained their quota. This gives us a unique parliament because "third" parties and independents, who in other voting systems would never get into parliament, have a very good chance of so doing, and the current Senate has 9 Green POarty senators and one independent. This means that it is rare these days for one of the major parties to hold an absolute majority in the senate, whose role it is primarily to assess and either pass or block the legislation passed in the House of Representatives. The Third parties hold the balance of power, and in the Aussie vernacular, "keep the bast*rds honest". On rare occasions a government might call a "double dissolution", throwing the whole parliament onto the voters' mercy, usually done because they think they are popular enough to maybe gain control of both houses. The senate quotas then become one eleventh of the primary vote. The state parliament in Tasmania is wholly elected on the Hare-Clark version of this election process, and the Greens have won enough seats there to have actually formed a coalition government with the Labor Party at one point. The other point I will make in this discussion is the ideological makeup of the parties. What we call the Liberal Party is in a long-term coalition with the National (formerly Country) Party. It used to actually be a liberal party along the lines of Britain's liberals and America's Democrats, but for at least 25 years now has actually been in the control of the conservative lement within the party, and now far more closely resembles the British Tory Party or America's Republicans. The Labor Party grew from Australia's extraordinarily strong Union movement from the late 1800's, but it too, in the last 25 years, has moved to the right, and is now more or less a slightly left liberal party. Both Labour and the Lib/Nats work under some difficulty, since there are still many died-in-the-wool left wing or "liberal" members within the respective groups, which causes a lot of internal bickering and political assassinations. The Greens are the truly "liberal" party, and have grown far beyond a merely environmental movement, espousing many radical social welfare stances and a strong anti-Globalisation economic platform. Enough of the lecture. Any questions? Lash
3 responses

•
12 Oct 12
I had no idea the Greens were so strong there, though I have an Aussie friend who is environmentally concerned so perhaps it should not have come as such a surprise. I am interested to know if the paper media has a right wing bias as in UK? all the best, urban

• Australia
12 Oct 12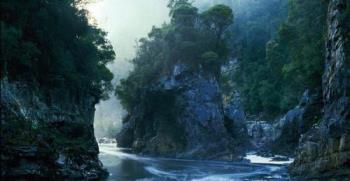 The Australian Greens began in Tasmania as an environmental protest group, standing up to the the Tasmanian hydro-electric commission to stop the damming of the Franklin river, a project carried out with the help of the very progressive Hawke Labour government. The United Tasmania Group stood for elections in 1972, and the two leaders of that group, Bob Brown (recently retired) and Christine Milne, the current leader of the Greens and a federal senator also, are still in the fray. They formed the Austrlain Greens in 1992, and since then have held senate places in every government, and now even have a member in the lower house, a most difficult thing to achieve under normal circumstances. Currently the Greens party has nine senators and one member in the lower house of the Parliament of Australia, 24 elected representatives in state and territory parliaments, more than 100 local councillors and according to Bob Brown close to 10,000 party members. At the last election they gained 13% of the senate vote, a record for a minor party in Australia. I am a little out of date now, but five years ago I would have said that, with the possible exception of the German Greens, the Australian Geens are the most successful Green party in the world. They may now be in front. As for the media, yes indeed, very pro conservative. Fortunately a few of the more vocal and important Conservatives have recently firmly planted their feet in their mouths, and even elements of the commercial media are beginning to become critical. We have a hung parliament, with the power held in the lower house by the Green and four independent members, all of whom backed the Labour party to hold the minority government, and the beaten Conservative leader, the Mad Monk Abbott, has devoted most of his energies to driving a wedge between them so that he can take his rightful place as Prime Minister. Considering my poor health prognosis, I might even consider becoming an Australian Mercador if he succeeded, he frightens me the way Hitler must have frightened many Germans in the 1930s. I'll leave you with a Dombrowski photo of the Franklin River, the birthplace of the Greens in this country. Lash

• Gold Coast, Australia
21 Oct 12
Thanks for providing such a great politics lesson for the benefit of not only those from overseas, but also for many of us Aussies who know very little about how the system here works.

My question is...will we ever see The Greens in power in this country? That thought would have been laughable not so long ago, but now I sense that in future years it may happen. But I do realise that a huge shift power wise will have to happen first. But who knows....not so long ago a black man being leader of the USA was also laughable!

• Australia
21 Oct 12
I think we're a long way from that, unfortunately. The system is so entrenched that it's very hard for a third party to get honest media coverage, and we are as a nation remarkably ill-informed and apathetic on political issues, the hip pocket nerve usually being the only issue that stirs us. But as long as they remain strong enough to keep the basta*rds honest I'll be content. Lash

• Adelaide, Australia
10 Nov 12
According to some of your previous responses, you believe even some Australians like me don't know a lot about Australian Politics... and then you make the assertion that our system is based on Britain's - with no mention of the fact that its a combination of the old American & British systems from the outset! I'll give you a clue... Australian Labor Party, not Labour! Give the Americans the naming rights they deserve & show some respect. Not to mention that this system contains many elements of our own design, like the secret ballot system, etc. Then there are slightly different systems for every state & different rules as well, like on the issue of compulsory voting (it's compulsory to vote in this state once you've registered, but its not compulsory to register here!). Then you have failed to mention that Labor is ruled by four faction bosses, known as "power brokers" with power in the cabinet out of all proportion to the number of people who actually voted for them. Also Labor's close links to Communism which began shortly after World War Two & continues today. Then the wayward unionists in that party constantly trying to bugger up the country in what seems like a constant stream of rolling stoppages & promotion of gross inefficiencies, particularly at the docksides of this export-dependent country. Then there's the tradition of massive & unsustainable Labor borrowing & spending that has been the trademark of every Labor government since Whitlam. This country has been waiting for too long for another election.