messi..messi..he scores again...Deportivo 4-Barcelona 5

Indonesia
October 21, 2012 12:24am CST
barcelona keep their position and still unbeatenable.. the difficult game with Deportivo La coruna in Estadio Riazor.. it`s not easy game for Barcelona..thanks to Messi..he makes hattrick again.. actually barcelona start the game with an easy..they lead 3-0 (in 18 minutes) by Jordi Alba, tello and messi.. but Super depor makes 2 goals by Pizzi and Alex Bergantinos for making the result 3-02...but messi once again scores his second goal and makes the result become 2-4 for Barcelona.. half time, the result still 2-4 for barcelona.. Pizzi makes his second goal and make the result become 3-4 for barcelona..but mascherano get red card and make barcelona is under pressure But messi makes his hattrick tonight and make 3-5 for barcelona unfortunatelly, jordi alba makes the own goal and makes the result become 4-5 for barcelona.. barcelona still in the leader of standing with 22 points from 8 games..deportivo still in 18th with 6 points.. starting line up DEPORTIVO: Aranzubia, Ze Castro, Laure, Ayoze, Marchena, Bergantinos, Pizzi, Tapias, Bruno Gama (Nelson Oliveira 61), Riki, Valeron (Camunas 61) BARCELONA: Valdes, Mascherano, Alba, Montoya, Song, Fabregas (Xavi 61), Iniesta, Busquets, Villa (Adriano 54), Messi, Tello (Pedro 56) and now we are talking about messi this hattrick makes messi break the record of ronaldo.. if in 2011, ronaldo scores 43 goals, so with this hattrick, messi had scored 44 foals in 2012 (from january 2012 until present) and this is still october..and it means that messi can score more than 50 goals maybe in this 2012 and with this hattrick, messi beat record of one of barcelona legend, Cesar... Cesar can make 14 hattrick in away, but messi now had made 15 hattrick in away games.. Messi makes his record same with Cesar..messi and cesar is succesful scoring 11 goals from 8 games..Cesar do it in 1950 so?? messi is still awesome and helps his team, Barcelona.. share your opinion about barcelona and messi..
6 responses

•
21 Oct 12
What is there to say about Barcelona and Messi , Barcelona are still the best club side in the world who play breath taking football as a football fan I think that Barcelona are so good to watch they can attack and defend as a unit. Teams in the English premiership like chelsea are trying to copy there style but can't get close to it. Messi is just awesome its scary how good he actually is he is easily the best player in the world.

•
21 Oct 12
Definatly, I think that Messi is a passionate player and he is the heart of Barcelona, if he plays well they play well he would be so hard to replace if he ever decided to leave.

• India
21 Oct 12
I am very sad to tell you that I couldn't enjoy the game. I was busy with some of my works

The game was really a tight one and I am quite sure that each of the viewer has enjoyed the game at it's best. Messi has played an significant role in the game. I felt that he has turned out as an key player for barcelona. I hope he will keep doing it

.

• India
21 Oct 12
I had just seen the goals in in news channels. They are excellent




• India
21 Oct 12
What a match!! It appeared both teams are playing with a defense. 5-4 in any match is a brilliant fun to watch. Add to that a hat-trick for Messi and you have had your full worth of entertainment. I thought Deportivo really played well up front to score those 4 goals. I am not sure when was the last time any team pumped 4 goals past Barcelona. Cheers! Ram

• India
21 Oct 12
hello, messi is the best player in the planet. i don't think there's any doubt in that. the way he plays, its just real magic. no one in this world can match his brilliance. he is just inevitable in the field. and with his help barcelona is still unbeaten in this season and they are having a great run. i hope they can continue their undefeated feat for a long time. they are playing brilliantly and deserve to be in the top. if they play like this, they can easily win the la liga this season. real madrid is far behind. all the best to them.

• Malaysia
21 Oct 12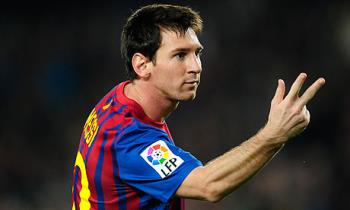 Lionel Messi is the best Barcelona player. Without him, Barcelona might not have scored that many goals and won that many matches. So for the other competing teams, to stop Barcelona means that they have to stop Messi. If one defender is not enough, then assign two, just to mark Messi out of the game if any team, that includes Real Madrid, wants to have a chance to win against Barcelona. Lionel Messi is simply awesome and a genius. I doubt if two defenders are enough to take care of him.