Do you have wildlife visitors in your backyard?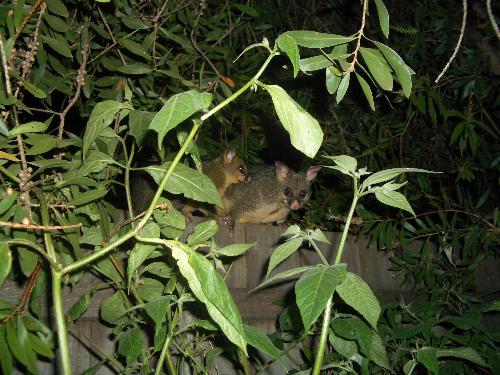 Australia
October 22, 2012 11:42pm CST
Hi, does anyone else have any photos of the wildlife visitors in their backyard? I'd love to hear about them or see a photo of them. Here is a photo of a mother possum and her baby, come to eat the leaves all around them, they are on a chilli bush, they don't eat the chillies though.
3 responses

• Manchester, England
9 Nov 12
I live in England, so there is not a great deal of wildlife in the cities. However, I do get a few hedgehogs visiting the garden at times. I realise that a hedgehog may not be as exciting an animal as many others, but I like to see them around all the same.

• India
23 Oct 12
Thanks a ton for posting this discussion. Well glad to hear about the possum present in your backyard. Well we have many visitors in our backyard as it is fairly big and many leaves and fruits fall down and that gives scope to many birds and animals to perch in and have it. It includes sparrows, crows, nightingale, cats, squirrels etc and they are an absolute treat to watch while having their food. What say?

• Australia
23 Oct 12
Hi again, I am glad that you enjoy watching them when they come and scrounge around for something to eat. I have noticed the dad possums behaviour when the mother has a baby with her, he is very protective and doesn't like you getting close to them. Crows come here most days too, they sit just above me and look down, I say to them, wa wa waaaaaa, and sometimes they do it back to me, dunno what I'm saying though. :-)

• United States
10 Nov 12
Oh, you name it, we see it here. I live in the country and we get visitors all the time, all shapes and sizes. I've even had a cow visit one day. (There is a farm across the road and the cow had broken through the fence and wandered onto my property.) I've seen deer, rabbits, groundhogs, opossums, chipmunks, squirrels, geese, ducks, snakes, voles, field mice, blue heron and an occasional skunk. My favorite visitor is a peacock who comes by very often (I've spoiled him with nuts and fruits) and actually stays here for weeks at a time. I think he lives on the farm across the road but I can't be sure since he's here so often; he may be wild. I am unable to upload any photos right now; don't know why but it's just not allowing me to at the moment. I have a photo of the cow on my profile page, though. I may have one of the peacock, I can't remember if I put one there or not.