Plant Connundrum No.2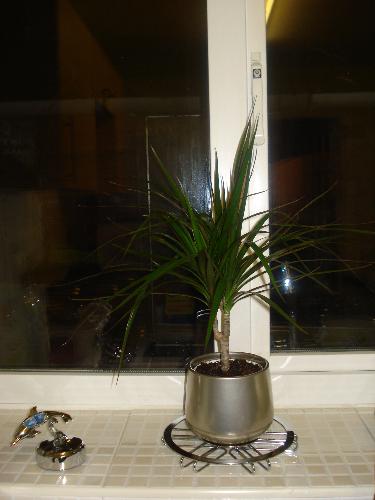 Carlisle, England
November 10, 2012 2:36pm CST
The sun was out and it spurred us on to get out and about as I can't stand being in the house on a Saturday when it's lovely weather outside. We drove up to the Dobbies Garden Centre where we bought that Boston Fern (YOU
WERE
RIGHT ABOUT THAT!) and picked another little plant for the kitchen. In the photograph it is in the same location as the MIL's money-plant once sat and - believe me - I got a real buzz out of binning it off as it was looking a bit ill anyway..so this new plant gave me a good excuse to replace it.

The thing is..we have no idea what the plant is.

There was no label on it anywhere (and that's how I found out the other plant is a Boston Fern as there was one with a label on it this time) so I thought I'd ask my good friends here on MyLot..any ideas? By the way, I know the plant looks massive but that's due to me standing quite close to it. Trust me, it's not that big. I love it!

5 responses


• Carlisle, England
11 Nov 12
I've looked closely at other photos of the Dragon Tree (the magenta one) and they all look like my new plant, which has magenta stripes running down the sides of the leaves. I took the photo at night so they probably don't stand out that well..but they're definitely there. Also, the stems on some photographs are unusual - again, like my plant. I've thanked owlwings as I reckon he's got it spot on.


• United States
11 Nov 12
I think he does too. Somehow, I still think we called it something else but for the life of me I can't remember what it was. You can actually train the stems to shape in unusual ways I think. I have seen some of them corkscrew and some go all different directions. It is a lovely plant but very social. Be sure to talk to it. It thrives on attention.


• Carlisle, England
12 Nov 12
Oh, I talk to my plants all the time (all two of them) lol.

I've cut back the Boston Fern as it was looking all sad at the bottom..and I talked to it whilst I was doing it. It's looking a lot happier now. Oh, and it got a drink as well.

As for the Dragon Tree, I absolutely LOVE the shape of it and it loves being in the kitchen. I shall have to watch out in the warmer months though, as I know they don't like direct sunshine and the leaves can turn brown if I'm not careful. Good excuse for a blind!



• United States
11 Nov 12
I labeled your photo, and I called it Dracaena Marginata. It will grow tall, and if need be can be cut back, supposed to be very durable, but I do not have one presently. Enjoy it.

• Carlisle, England
11 Nov 12
I reckon my Mum has one, thinking about it, and that one is a lot taller than mine. I shall study it the next time I see it (and take a photograph so I can compare the two) and once mine grows tall I can cope with it as I love structural plants that - either grow upwards or outwards like the Boston Fern.

Is it normal for the leaves on the Boston Fern to fall off? It's looking fine..not ill or anything and I do keep the leaves damp and periodically water it..but not too much. Am I doing the right things here in its care? I worry about it being next to the radiator but that's the only place it can go, at present. My goal is to get rid of the coffee table, have a new one in the middle of the floor and have a plant stand where the coffee table is at present, so I can move it further into the room if I so wish. It's all there in my head what I want to do!


• United States
11 Nov 12
Boston ferns do dry out easily and lose lots of leaves. They are not prone to pests as I remember, just the leaves are so very thin. The best luck I had with them I worked in a store that sold them and once a week I would take each fern and dunk the whole plant into a bucket of water, let it sit until it quit bubbling and then let it drain and re hang it. Yours is on a table so I assume it does not have a hanger, but that is okay. Getting more distance from the radiator will be good. Using a spray bottle to mist it will help. Often people talk about a pebble tray, where you use a shallow bowl or tray and fill it with pebbles. Keep water in the pebbles and set the plant so that the roots are not in the water but the evaporation lends them moisture.

• Carlisle, England
11 Nov 12
I shall try to remember that about watering..thanks.


• Cambridge, England
10 Nov 12
It looks to me like a Dracaena or 'Dragon Tree'. There are many different kinds of this, some with variegated foliage and others with no stems. As far as I recall, this one is a Madagascar dragontree (but I could be wrong about that). This page has a number of varieties of Dracaena illustrated (including the 'Lucky Bamboo', which is not a bamboo at all): http://www.bhg.com/gardening/plant-dictionary/houseplant/dracaena/ Unfortunately, none of them seem to be shown with a stem like yours but I can assure you that many varieties of Dracaena look just like miniature palm trees. Some can grow to quite a size as the picture at the top here: http://en.wikipedia.org/wiki/Dracaena_%28plant%29 shows!

• Cambridge, England
10 Nov 12
The picture of Dracaena marginata 'Magenta' on this page: http://www.gflora.com/index.php?cmd=genus_body&genus_id=18 looks a lot more like yours!

• Carlisle, England
11 Nov 12
How ironic it's called a Dragon Tree, seeing as it's replaced a Money Tree plant from the MIL..who I often refer to as The Dragon (but only in my diary, never to anyone's face) lol.


Thanks so much for taking the trouble to find out what the plant is for me, it's appreciated.


• China
12 Nov 12
From your photograph,it looks like cordyline australis that belongs to Agavaceae -century plant,a plant native to New Zealand.It has straight trunk and sword-like leaves.

• Carlisle, England
12 Nov 12
I'm afraid you have been outnumbered by the dracaena plant fans but I can well understand your reasoning my friend.

http://houseplants.about.com/od/foliageplants/p/Corn-Plant-How-To-Grow-Dracaena-Marginata.htm

• China
13 Nov 12
It is hard to differentiate the variety of an angiosperm without its flower and fruit,So I'm not sure what type of plant that is.By the way,how did you put the link http://houseplant.about.com/...on your comment? Sorry ,I can't do it all the time.

• St. Catharines, Ontario
11 Nov 12
Yup. Definitely a draecena. I had one in Vancouver that was about 5' tall and had two stems. The one I have here was only about 2' tall but I cut it down anyway as it was rather spindly. I planted the top next to the stem. I hope for the stem to sprout a couple times, but once will be good, too. Does the garden centre not have knowledgeable staff to inform their customers?

• Carlisle, England
11 Nov 12
Not really as it sells other things as well, like 'smellies' and ornaments, etc. It does say Dobbies Garden Centre though so perhaps they're more interested in outdoor plants. More information on those if I remember rightly. There isn't even a card telling me what sort of care my indoor plants require which is why I end up on here lol.

I think my Mum may have the same draecena plant, and hers suddenly sprouted upwards a couple of feet. It's ace. I shall take a photograph of it when I'm there at Christmas.