Do you think Manchester United must sell Chicharito?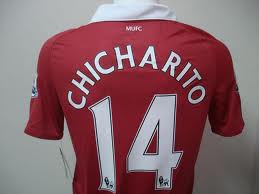 November 11, 2012 10:46am CST
Some weeks ago, every one was saying that "Chicharito" Hernandez was going to be negociated to Arsenal, Atletico de Madrid, even Chelsea, and all of us were agree with that, but after his performance in the last games, even Sir Alec Ferguson says that he has a great "problem" because of him, he has scored in all those matchs. Do you think MU must sell him?
8 responses

• India
11 Nov 12
I would love to see Chicharito play for Arsenal. But I am not sure that Sir Alex would sell Chicharito to a premier league opposition. So if it comes to that, he would probably sell him to any other league probably to Athletico Madrid. Cheers! Ram

• Mexico
11 Nov 12
Where ever he plays mexico will be proud.

• China
11 Nov 12
I think that no many which striker Arsenal has, Arsenal could not threat Man Utd. They are in lack of defending players. And their bad defending has harmed the performance in the middle field. The result is that the attacking would be limited. They need someone to replace the position leaved by Song. Now they no longer have Song. That's why they would be so hard in this season. Brilliant middle fielder players like Song and Van der Vaart could impact the whole team although they may not give scores or assists directly. They could let the whole team to rise up for a level. You'd see the performance of Hamburger SV. Before they bought Van der Vaart, they were always losing games and ranked in the last few teams in the league. After the return of Van der Vaart, they are no in the middle. This is the difference.


• China
11 Nov 12
I think that Chicharito is essential for man Utd. He had brought Man Utd 8 points by scoring after coming off the bench. Such a player is very hard to find. And for him he could get much more chances than Solskjaer as a substitute. Sometimes he would come off the bench in the middle of the game while Solskjaer often got chances for less than 10 minutes. He could became another legend. If his scoring could bring Man Utd around 10 points, it would be an extremely huge impact for the competition for the title. Sir Alex shouldn't sell him.

• Indonesia
13 Nov 12
because sir Alex gives the same chance for any forward.. yes it`s true that RVP is special for Sir Alex ferguson.. but Sir Alex is more fair to another forward.. Rooney sometimes still play when RVP is in the pitch.. do you watch the latest goal of Chicarito?? it`s assist of RVP.. it seems that Sir Alex sometimes uses 2 or 3 forward together in one time..


• Malaysia
13 Nov 12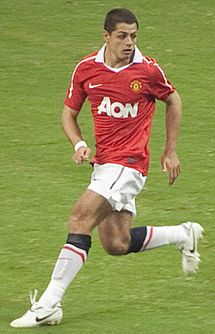 Why MUST Manchester United sell Javier "Chicharito" Hernandez? Manchester United has the financial resource to keep him and enough games in a season to play him. Of course no top player is happy sitting on the bench but there will always be some players who must be rotated and rested. It is up to the manager to make sure that his players are taken care of and be given reasonable playing opportunities. Hernandez is having a bright future in Manchester United. He is still young. He will have his chances soon. He will leave Manchester United if he wants to. But Manchester United will never want to sell him.

• Indonesia
13 Nov 12
MU have no financial problems when selling Chicarito.. it`s rumour.. many people maybe wants chicarito plays in their club.. so they spread any untrust gossip or news.. If chicarito leaves MU, maybe he can`t get his maximum performance like he is in MU.. do you remember his performance in first year?? awesome.. but in second year?? his performance is dropped..But Sir Alex is patient..He knows that someday a player can`t keep their good performance every season..

• Malaysia
13 Nov 12
It is true that a player may not be able to play like he did with his former team as football is a team game and every player needs his teammates to support him to be successful. Hernandez can score many goals because he has got good support from his teammates in Manchester United. If he joins another team, he may not get such good service. Just imagine if Messi were to play for Osasuna or Espanyol, would he be able to score as many goals as he does now with Barcelona?

• Indonesia
13 Nov 12
Sir Alex will regret to let him go, especially to premier english club. the last game show he score hattric, so Fergie should give him more chance to stay longer

• Indonesia
15 Nov 12
may be yess, but I hear that if sell Chicarito, Fergie won't sell it to EPL club. it indicates that Fergie still believe in Chicarito's potension can be boomerang for MU's opponent. only one MU in EPL, but remember, another club such as Chelsea, Arsenal, City could beat them anytime

• Indonesia
11 Nov 12
it`s the best choice for him staying longer in MU he should take the best chance in under of Sir Alex ferguson it`s clear that now he becomes the second options of sir Alex tactics.. but he can uses it with learning the new technique from RVP or rooney it`s rare chance for him if he moves to another club, maybe he will have same situation like Carlos Vela or Giovani dos santos, his team mate in Mexican national team..

•
13 Nov 12
Chicharito is a great professional, he is always happy, if he start the game or if he is on the bench. You are right, he is learning a lot with team players like Rooney, and I know he would like to stay, I think Chicharito has a better game than Dos Santos or Vela, he must be very intelligent to select a team if is sold.

• Singapore
12 Nov 12
No way Alex Ferguson would agree to selling the Mexican. How many times have he came off the bench to rescue Man Utd? Countless. His importance to the team is almost that of Van Persie and Rooney and yet, it the latter two who grabbed all the headlines. If Fergie still have it, he will do good to repel any advances for the striker.

•
11 Nov 12
I am not a United fan, but the lad is quality. If I had to make the choice I would sell Rooney and Keep Hernandez, because he is the future - Rooney is not the player he was when he first burst onto the scene, I think it is time for him to go

• Mexico
11 Nov 12
Chicharito tells the mexican tv stations here that he is leaving manchester. he hasnt said to where. But he told mexico top tv station in an interview on wed. he was sure he was leaving the team.